Highways England has pledged £3m to provide safer crossings and connect some of England's busiest roads with the National Cycle Network.
The 16,505 mile National Cycle Network, managed by the walking and cycling charity Sustrans, links villages, towns and cities – and is used by 4.4 million people every year.
Highways England says the new initiative forms part of efforts to make it easier for people of all ages and abilities to cycle and walk across and alongside its roads.
Richard Leonard, Highways England head of road safety, said: "We want to make cycling and walking safer and easier – not merely locally, but across the country as a whole.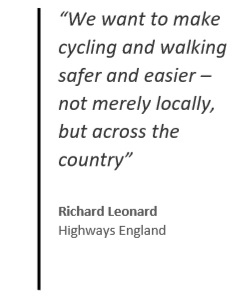 "The National Cycle Network is a great initiative, and this project is a great example of how people can be encouraged to cycle and walk more – with obvious benefits to their health, safety and the wider environment."
To kick-start the initiative, Sustrans is working with Highways England to create a shortlist of schemes which can be 'quickly taken forward'.
Anita Konrad, Sustrans' national director for England, said: "We are delighted to be partnering with Highways England and welcome this investment that will make it easier for more people to cycle to work, the shops and for leisure.
"Cycling and walking for local journeys is part of the solution to many of the challenges we face today, including road congestion, air pollution and high levels of inactivity. The schemes demonstrate how – with some practical design solutions and minimal interventions – we can address these challenges, and that retrofitting cycling provision can be done easily.
"We hope to build on this partnership with Highways England, to make cycling safer, more attractive and easier for everyone, regardless of age and abilities."
Last week, the DfT announced a 'new and improved' Highway Code, designed to help keep cyclists and pedestrians safe on the roads.
The DfT also recently awarded £1m in funding to support projects repairing and upgrading sections of the National Cycle Network.
---