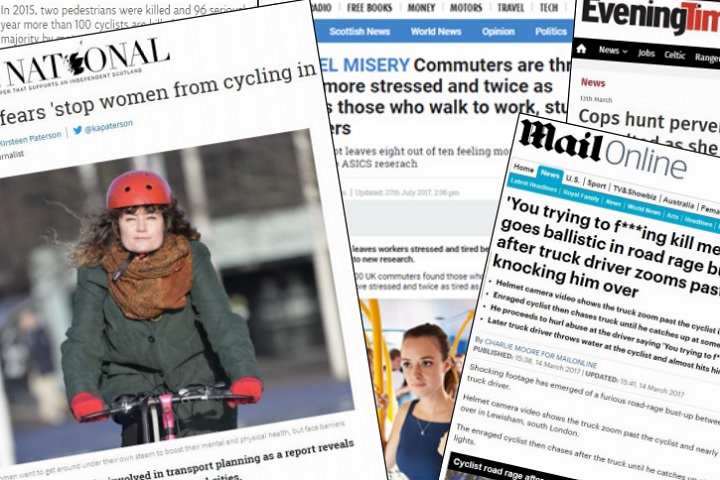 Active travel continues to be portrayed in the media as 'risky and unsafe', despite its 'well-documented health and environmental benefits' – a new report concludes.
The research, funded by Transport Scotland and conducted by Sustrans, analysed 600 media articles over a 12-month period to explore how walking and cycling is represented, and how people who walk and cycle are portrayed.  
It found the majority of articles (61%) about active travel are 'broadly negative' – including 63% of articles on walking.
There is also a media focus on 'criminal acts' – where a crime is committed by or against a cyclist or person walking, or a person walking or cycling witnesses a crime – rather than safety.
However, there were constructive themes, with 'infrastructure' featuring in 64% of positive articles about active travel and 'health' in more than 93% of articles.
A lack of diversity
The authors say one of the key findings from the report came in the 'visual analysis', which supports the view that mobility is 'gendered'. 
Of those portrayed actively walking or cycling, 50% of images contained only men, while 27% showed only women. This gap widens when looking exclusively at cycling images (63% male and 18% female). 
Active travel articles 'significantly over-represent' images of white individuals (96%) in comparison to BAME individuals (4%), highlighting 'the lack of diversity'.
The report says images can also often make cyclists and pedestrians look vulnerable through the use of 'isolated or car-dominated locations' and 'voyeuristic camera angles'.
Nathan Farrell, Sustrans research and monitoring unit deputy director, said: "This is one of the most comprehensive overviews of the media portrayal of active travel. It explores some of the key challenges that emerge when reporting on cycling. 
"In particular, it highlights how the media's preference for the types of dramatic and sensationalist stories that appeal to audiences often underplays the more widespread health and environmental benefits of cycling.
"Ultimately, the research points towards the need for a more engaged dialogue between active travel advocates and media practitioners in order to more accurately represent the benefits of cycling."
John Lauder, Sustrans UK Deputy CEO, said: "There is still work to be done on ensuring both cycling and walking are not stereotyped and associated imagery is much more widely representative. 
"We in the sector also need to make sure we don't inadvertently reinforce stereotypes, or add to a climate of fear rather than celebration."
---