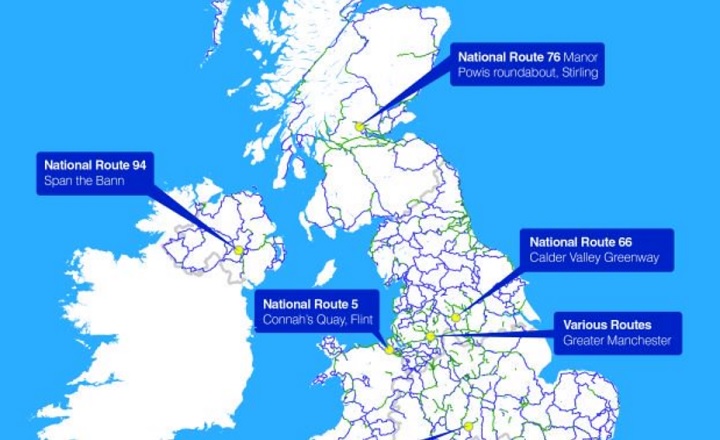 55 projects will be delivered over the next five years to enhance the National Cycle Network.
The National Cycle Network (NCN) was founded in 1995 by Sustrans with help from local communities, partners and a National Lottery grant.
According to Sustrans, every year more than 780 million journeys are made on the 16,575-mile network which links towns, villages and cities across the country.
The new projects are a result of the first review and independent audit of the NCN, published in the form of the 'Paths for Everyone' report in November 2018.
Paths for Everyone showed that while more than half of the UK population lives within a mile of the NCN, only 54% of the paths are safe for a 12-year-old to use unaccompanied by an adult.
The new projects to upgrade the NCN, which are to be finalised by 2023, range from improving signage to removing unnecessary barriers and creating new traffic-free sections – at a cost of approximately £60m.
Xavier Brice, CEO of Sustrans, said: "The NCN is a huge opportunity for central and local governments to transform the way people travel and help tackle a number of challenges facing their communities, including congestion, high levels of obesity and inactivity.
"The NCN already enables 4.4m people to travel actively every year, but currently only a third of the paths are away from cars – and half are not the quality asset they should be.
"The activation projects are the first step to help us achieve a vision for a traffic-free, safe and accessible network for all."
---