Police in one Australian state are to use automated camera technology to identify drivers who use their mobile phone at the wheel (The Guardian).
Announced as part of a wider range of road safety measures in New South Wales, the technology will initially be introduced on a trial basis but is eventually expected to become permanent and country-wide.
Under new legislation, existing speed cameras and dedicated new cameras will be allowed to detect mobile phone use by drivers.
Melinda Pavey, the state's roads minister, said: "NSW is the first jurisdiction in Australia to introduce legislation like the Road Safety Bill, showing this government's ongoing commitment to road safety as technology and societal trends change."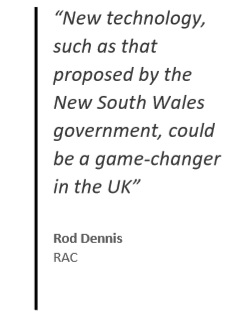 The RAC, which says that one of the real challenges in clamping down on mobile phone use is making drivers believe they will be caught, is calling for similar measures to be introduced in the UK.
Rod Dennis, the RAC's Be Phone Smart campaign spokesman, said: "Motorists need to believe that using a handheld phone brings real consequences – and move on from thinking that it is just a minor momentary indiscretion that will go unpunished.
"We very much support police forces' regular enforcement campaigns that help send a message to offending drivers that the law is not on their side.
"At the same time we know that forces up and down the country are under pressure, and with the best will in the world will never be able to catch every motorist.
"So new technology, such as that proposed by the New South Wales government, could be a game-changer in the UK.
"If proven to be accurate in detecting illegal use, it could really help shift behaviour and, in turn, save lives. We would encourage enforcement agencies here to look into what role it could play."
---