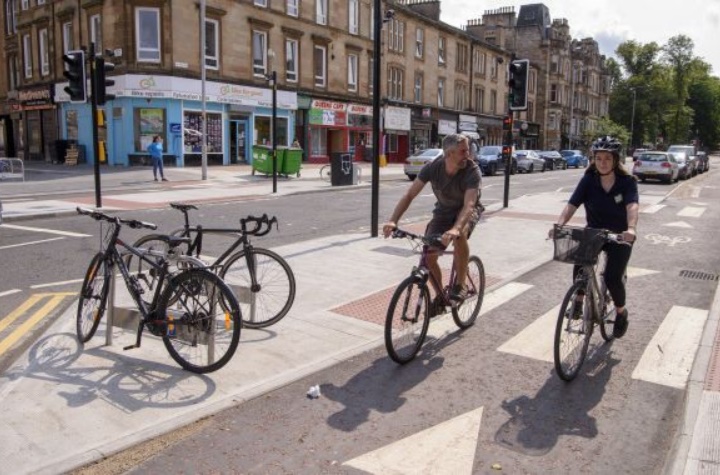 The government has set out plans to encourage millions more people to walk and cycle for essential journeys – but will their plans succeed?
Over the past weekend, transport secretary Grant Shapps unveiled £2bn of funding to encourage people to continue to cycle and walk as they return to work – rather than using public transport or private car.
With the public transport system operating at a fraction of its former capacity, due to social distancing requirements, there are fears that commuters may resort  to driving which could lead to towns and cities becoming gridlocked.
For this and other reasons, the government investment to capitalise on a 'once in a lifetime' opportunity to permanently boost active travel, has been universally welcomed – but concerns about car use remain.
Car use may 'rocket' – Brake
Brake is concerned that the post lockdown era will see private car use 'skyrocket'.
To counter this, the road safety charity is urging government to seize the opportunity to 'make a permanent change to the way we get about'.
Joshua Harris, director of campaigns for Brake, said: "When lockdown restrictions lift, there is a risk that private car use will skyrocket, with roads not fit for cycling and walking and people wary of sharing transport. This cannot be allowed to happen. 
"This horrific pandemic has caused a huge amount of pain and damage but we must learn what we can from it and it is clear that people value cleaner, quieter, and safer streets. It is incumbent on the Government to grasp this unique opportunity and make a permanent change to the way we get about."
Have attitudes to cars changed permanently?
The RAC believes in time 'people will inevitably return to the comfort and convenience of their vehicles for some journeys' – and for this reason drivers' needs should also be 'carefully considered' going forward.
Nicholas Lyes, RAC head of roads policy, said: "The success of new walking and cycling schemes will depend on how attitudes to using cars for short journeys have changed over recent weeks, and if those attitudes translate into people permanently switching to active forms of personal transport. 
"It's very likely that people will inevitably return to the comfort and convenience of their vehicles for some journeys, especially where they need to cover longer distances or have a longer commute. 
"The needs of all road users must therefore be carefully considered. 
"For example, authorities will need to be careful about reducing road space in certain areas as they could end up creating problems if traffic demand outweighs those opting to use a bike.
E-scooters – an alternative for short trips?
The RAC gives a cautious welcome to e-scooters as part of the urban transport solution going forward, as long as they can be made safe to use.
Nichola Lyles continues: "While drivers are lukewarm about the idea of having e-scooters on roads, they also often tell us they would like to have cheap, reliable alternative forms of transport so the Government is right to look at different ways for us to get around in congested cities. 
"E-scooters could provide that alternative for short trips, though their safe use must always be the number-one priority. 
"For example, it makes sense that these devices have safety features like reflectors and speed limiters fitted, and that options such as insurance and training are carefully looked at to see if they can bring additional safety benefits."
Warm support from cycling and walking fraternity
It is hardly surprising that the government's plans and investment have been met with unequivocal support from active travel lobby groups.
Living Streets is encouraged to see some local authorities already reallocating road space from cars to active travel. 
Jenni Wiggle, interim chief executive of Living Streets, said:  "Now, more than ever before, it's important we reduce the barriers to exercise, travel healthily, and ensure our public spaces are fit for the future. This (government) investment will help more local authorities to do this.
"Now is the time to plan out public space for the future. We all need to walk more and drive less to tackle the crises of public health, traffic congestion, air pollution and climate change.
"This is a great start on the road to better streets for all."
The Walking and Cycling Alliance* warns against 'solving one crisis by perpetuating others', instead urging government to 'create healthier, happier and greener places that we all want to live in'.
Xavier Brice, Sustrans CEO, speaking on behalf of the Walking and Cycling Alliance, said: "Public transport systems are vital but will not be able to operate at full capacity for some time due to social distancing. Our towns and cities can't cope with the increased private car journeys this could cause.
"Instead we must increase walking and cycling.
"As we begin to rebuild after this devastating Covid-19 pandemic, we encourage all local authorities to use this funding as soon as possible to make the changes needed.
 * The Walking and Cycling Alliance comprises the Bicycle Association, British Cycling, Cycling UK, Living Streets, The Ramblers and Sustrans.
---