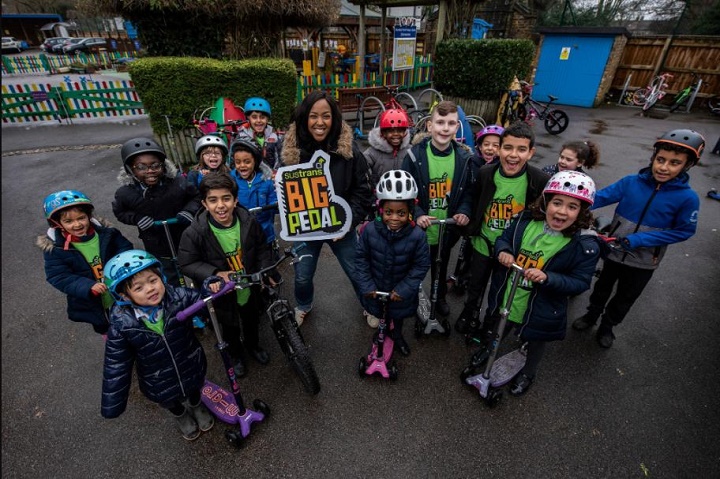 The UK's largest active travel competition for schools – which took place earlier this year – saw a record 3.8 million journeys made by bike, foot or scooter.
Organised by Sustrans, the theme for the 2019 Big Pedal was 'travelling around the body', with pupils learning about how active travel benefits their health.
In total, 559,629 pupils from 1,682 schools participated in the 10-day competition, walking, scooting or cycling the equivalent of 11.9 million miles – the equivalent of 480 trips around the world.
These sustainable trips prevented an estimated 4.7 million car journeys, saving parents approximately £1.6 million on petrol and burning more than 226 million calories.
40 of the participating schools, working in partnership with Sustrans and their local authority, trialled 'School Streets' – which sees streets around schools closed to motor vehicles during pick up and drop off times.
Xavier Brice, Sustrans CEO, said: "This year's Big Pedal saw the highest number of pupils and parents take part since we first launched the competition back in 2010. This is a fantastic achievement, which tells us that children want to cycle, scoot and walk to school.
"It also demonstrates there's a growing public awareness of the effects of motor emissions and the role more walking and cycling can play in reducing them.
"But to make it easier for parents and pupils to continue travel by bike and foot, the roads outside schools need to feel safe. One of the best ways to do this is by making streets outside the school gates car free.
"That's why we are calling on national governments to support local authorities to enforce School Streets and implement clean air legislation to tackle motorised traffic, including large-scale investment in walking and cycling."
---