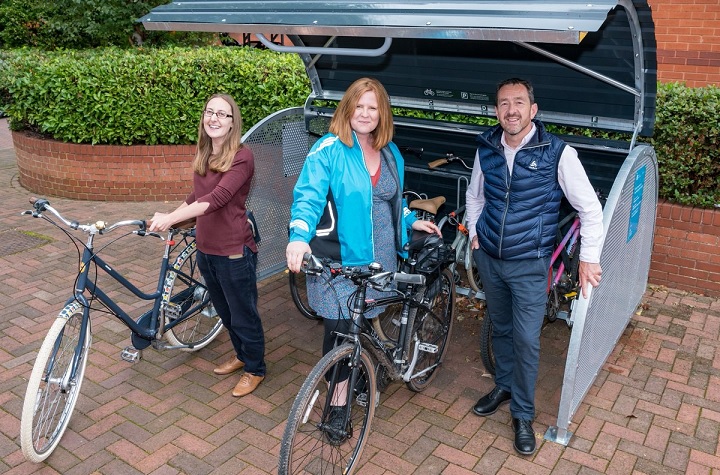 Cyclists in Salford will find it easier to store their bikes securely in residential areas, thanks to the introduction of 11 new bike hangars.
The hangars, which have been placed on streets where residents have little or no internal storage, are part of a pilot scheme by Transport for Greater Manchester (TfGM) and Salford City Council.
The hangars can hold up to six bicycles, offering a 'secure solution to long-term cycle parking' – as well as an 'effective way to protect bikes from tough weather conditions, theft and vandalism'.
They are the height, width and length of a small car and take up about the same amount of room on the street as a car parking space. They can be placed either on the road or pavement.
Residents who want to sign up for the scheme must pay a £25 key deposit and an annual fee, which will be subsidised at £20 per year for the first two years, going up to £40 per year thereafter.
Councillor Roger Jones, Salford City Council's executive support for transport, said: "The bike hanger scheme is a new way to make it possible for residents to own a bike who may not have the storage for it.
"Feedback so far has been positive and we hope the trial is a huge success."
Leona Sanders, a member of the bike hangar scheme, said: "My husband and I both signed up to the scheme once we knew the bike hangars would be built on our doorstep.
"We live on the second floor and having to take our bikes up and down was a bit of a nightmare. So this scheme has been brilliant and has made a real difference to both of us.
"It's good value for money and straightforward to sign up."
The initiative has received backing from Chris Boardman, Greater Manchester cycling and walking commissioner.
Chris Boardman said: "Bike parking at home is a crucially important factor in getting more people to ride. If an everyday parking solution is not convenient, secure and low-cost, they will simply decide it's too much hassle.
"Bike hangars are a fantastic addition to residential streets – I'm sure thousands of Greater Manchester residents would like one outside their house. I'll be following the Salford pilot with interest and I hope that the idea catches on across the city-region."
---