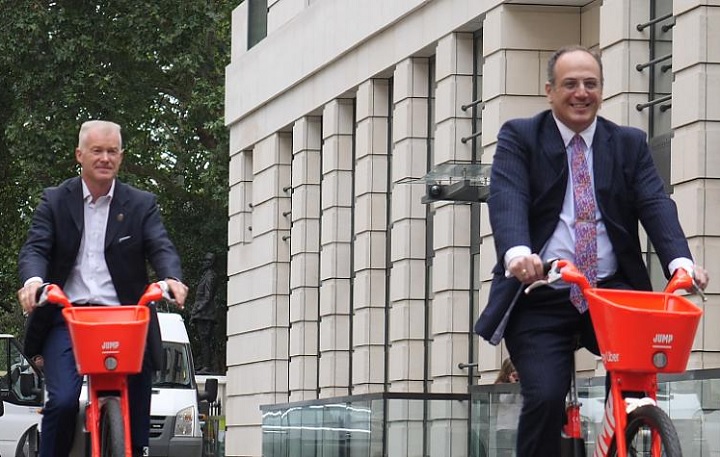 Speaking at the launch of 2019 Bike Week, the new transport minister Michael Ellis has confirmed his support for active travel.
Mr Ellis was announced as the replacement for Jesse Norman last week, assuming responsibility for road safety, cycling and walking, electric and autonomous vehicles and Highways England.
Making his first official appearance since taking up his new post at the DfT, Mr Ellis said: "I am utterly convinced of the wide range of benefits that active travel brings.
"How could one not support active travel, not just for health reasons and wellbeing but by bringing greater mobility to all and by helping create places where we want to live and work."
I was delighted this morning to take part in the annual @allpartycycling #Parliamentary bike ride event, celebrating the upcoming launch of #BikeWeekUK. Find out what work the Department for Transport is doing to get more people cycling: https://t.co/id7UK2yCQR pic.twitter.com/nXqIst138L

— Michael Ellis (@Michael_Ellis1) June 4, 2019
Delivered annually by Cycling UK, in partnership with Cycling Scotland, Bike Week encourages people to rethink their everyday journeys and switch to cycling as the most convenient way to get around.
Bike Week 2019 takes place 8-16 June, looking to add to the five million people who already cycle three times or more a week.
Across the country, hundreds of events will take place, suitable for cyclists of all ages and levels of experience.
These range from family friendly rides to training; and cycle maintenance to bike breakfasts – providing 'accessible and fun opportunities' for people to get back into the saddle.
The launch event welcomed professionals from the world of cycling, senior leaders and decision makers, to discuss opportunities to increase everyday cycling.
Paul Tuohy, Cycling UK's chief executive, said: "Leadership is what we need to deliver more cycling in the UK.
"Now is the time to call upon the new transport minister to dare to bring home the vision of making cycling for everyone."
---