Bradford Council proposals to introduce new 20 mph zones in the city centre have been recommended for approval by the council's executive committee which meets on 8 January.
The council is keen to introduce the 20mph zones 'to protect vulnerable road users including children, pedestrians and cyclists by improving road safety at key locations'. It also hopes the lower speed limit will encourage more people to take up walking and cycling.
The proposed zone covers Bradford city centre within the inner ring road and areas around Bradford College and University campuses.
The proposal also includes a 'significant number' of roads around two primary schools, in a move designed to improve safety for pupils on their journeys to and from school.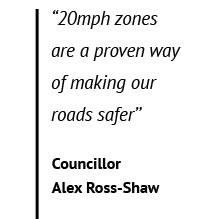 Councillor Alex Ross-Shaw, Bradford Council, said: "20mph zones are a proven way of making our roads safer and the proposed city centre zone will help make it a safer place for pedestrians and cyclists.
"By including a programme of 20mph zones around these two schools and nearby streets we can make a difference in protecting children from the dangers of speeding and promote responsible driving and road safety across the district."
FOOTNOTE
Click here to listen to a podcast featuring Jeremy Leach, 20's Plenty for Us spokesperson, discussing 20mph limits with Nick Rawlings, editor of Road Safety News.