The Government's 2018 budget, which includes a new £28.8 billion National Roads Fund, has been met with mixed reaction from stakeholders and campaign groups.
Unveiled by chancellor Philip Hammond on 29 October, the new Fund includes £25.5bn provided to Highways England for major road upgrades between 2020 and 2025 – largely funded by vehicle excise duty.
An extra £3.5bn of 'new money' will be allocated to major local routes, which fall under the remit of local councils.
The chancellor also announced that local authorities will receive £420m to fix potholes – on top of the recently announced £300m pothole repairs fund – while a further £150m will be provided to help councils improve local traffic 'hotspots', such as roundabouts.
In addition, the Transforming Cities Fund will be extended by £680m to support local sustainable transport – including new cycling routes.
Reaction
The walking and cycling charity Sustrans says the budget 'continues to lock Britain into a polluted, congested future which in the long-run will cost the country billions'.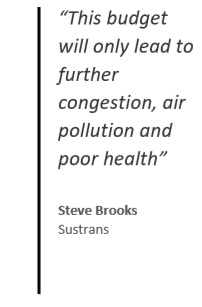 Steve Brooks, policy director at Sustrans, said: "This budget will only lead to further congestion, air pollution and poor health.
"A road building programme to be funded by income from Vehicle Excise Duty (VED) is particularly alarming at a time when climate experts call for a drastic reduction in global greenhouse gas emissions.
"An additional £680m for the Transforming Cities Fund is welcome but pales in comparison to investment in the road network."
IAM RoadSmart says that while the £420m pothole investment is welcome, it doesn't go 'nearly far enough' and is 'merely a drop in the ocean to deal with a long-term and major issue'.
Neil Greig, IAM RoadSmart director of policy and research, said: "IAM RoadSmart welcomes the commitments to building more modern safe highways. What we really need to see however is the same long-term funding approach applied to potholes.
"Extra money is always welcome but when it arrives unpredictably for one year at a time it does little to help the long term planning needed to really attack the pothole problems drivers and riders see and feel every day."
On a more positive note, the RAC says the budget, for the most part, is good news for the nation's motorists.
Pete Williams, RAC head of external affairs, said: "The Government made a commitment three years ago to ring-fence all the money collected from vehicle tax from 2020/21 to maintain and improve our most important roads.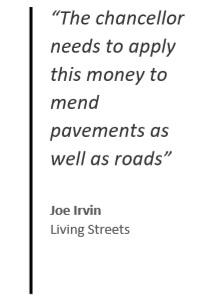 "It is good to see the Chancellor delivering on this promise and it is clearly a big step in the right direction.
"While the focus of this cash injection is strategic and major roads it is also positive that other local roads will benefit to some extent – any additional funding to help fix our local road network is welcome."
However, the RAC also described the pothole fund as a 'drop in the ocean'.
The budget was also welcomed by the walking charity Living Streets, who says it offers the chance of a 'positive year for people on foot'.
Joe Irvin, CEO of Living Streets, said: "The chancellor needs to apply this money to mend pavements as well as roads, make junctions safer and revitalise walkable high streets.
"But much more investment in walking and cycling is needed to improve health, and tackle congestion and pollution. We are joining calls for 5% of the Government's transport budget to be devoted to walking and cycling."
---