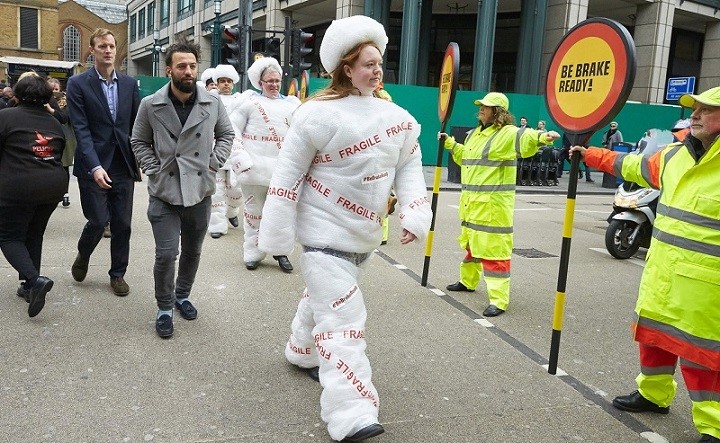 A new campaign is urging drivers, bikers and cyclists in the City of London to be ready to react instantly in order to avoid a serious collision.
'Be Brake Ready' was launched during Road Safety Week (20-26 Nov) with a publicity event near London Liverpool Street Station.
City of London school crossing patrol officers ushered bubble wrapped pedestrians across a collision hotspot (pictured) to highlight how vulnerable pedestrians are compared to other road users.
The campaign has been launched on the back of figures which show that either 'failure to look properly' or 'careless, reckless or hurried behaviour' were contributing factors in 172 of the 261 'killed or seriously injured' collisions in the City of London between 2012 and 2016.
To coincide with the new campaign, the City of London Corporation's road danger reduction team has also published four 'road etiquette principles' for people travelling in the Square Mile.
Look around – keep your eyes open and focus on what's around you
Be aware – the City of London is a busy place, so always expect the unexpected
Be considerate – remember other road users are people too
Less haste – take an extra second to think about what you're doing and any potential hazards
Alison Gowman, chair of the Active City Network, said: "Seeing as we cannot wrap all of the City's 480,000 workers and 9,000 residents in bubble wrap, we urge the public to 'Be Brake Ready'.
"Over the years we have seen a big increase in commuters who walk and cycle to work and to encourage this trend we have introduced cycling Quietways, redesigned dangerous junctions and implemented a City-wide 20-mile an hour speed limit.
"People need to realise that the City is a dynamic, different and busy place to travel in. Hopefully our four road etiquette principles will help save lives on our roads."
---