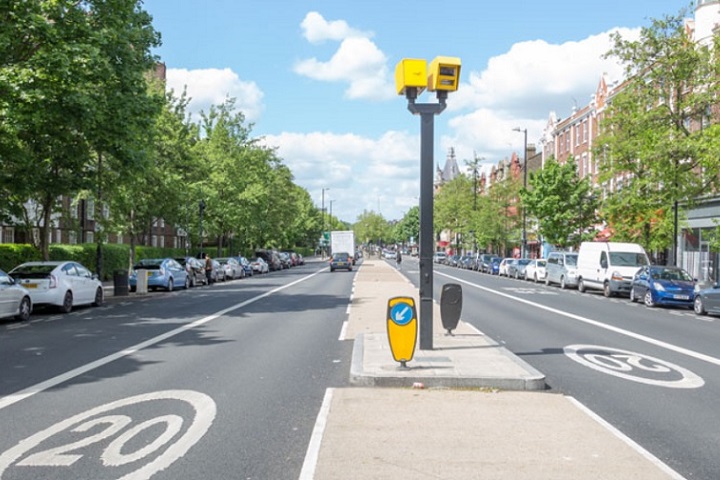 Central London's long-awaited 20mph speed limits come into force on Monday (2 March), a move designed to reduce road danger and increase levels of active travel.
The 20mph limits, which were given the green light in September, will affect 8.9km of roads within the Congestion Charging Zone – including Millbank, Victoria Embankment and Borough High Street.
They are supported by new signage and road markings, with raised pedestrian crossings in prominent locations where a high number of people walk, such as Embankment and Tower Hill Underground stations and outside the Tate Britain.
TfL will recalibrate all the speed cameras in central London and says it will work closely with the Metropolitan Police to ensure that drivers are complying with the new speed limits.
Sadiq Khan, mayor of London, said: "I am absolutely determined to do everything I can to eradicate all deaths and serious injuries on London's roads and these new measures are a vital step along the way to helping us to achieve this.
"By cutting speed limits on TfL's roads within the Congestion Zone we are saving lives, while at the same time making our streets more appealing for Londoners to walk and cycle around the Capital."
Lilli Matson, chief health, safety and environment officer at TfL, said: "Millions of walking and cycling journeys are made across our city every single day and a person is five times less likely to be fatally injured if hit at 20mph than at 30mph – it's as straightforward as that."
New speed enforcement team
To mark the introduction of the new 20mph limits, TfL and the Metropolitan Police have announced the launch of a new speed enforcement team.
The team will be deployed to known high-risk locations for speeding and will respond to stakeholder and community concerns about drivers speeding in their area, equipped with the newest laser video speed enforcement technology.
Andy Cox, Metropolitan Police detective superintendent, said: "Speed limits are designed to keep road users safe, they are limits not targets and the law should be adhered to.
"Excessive speed unfortunately remains a common cause of serious and fatal collisions across London and the consequences can be devastating for those involved and their families.
"Safe speeds are key to achieving the Vision Zero ambition and it's vital that those driving or riding on our roads respect the law on speed limits. We will actively target speeding and dangerous drivers and ensure they are dealt with robustly."
---