The DfT has announced changes to its plug-in car grant which will be available to people purchasing the next 35,000 electric vehicles.
The plug-in car grant (PICG) was first introduced in 2011 in a bid to stimulate the early market for ultra-low emission vehicles. To date, the grant has reduced the purchase price of more than 160,000 new ultra-low emission vehicles.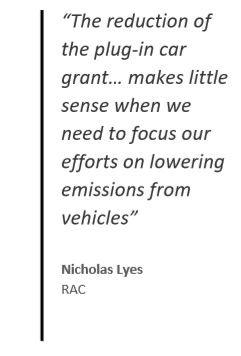 The changes to the scheme, announced on 11 October, mean that the grant for Category 1 vehicles is reduced from £4,500 to £3,500 – while Category 2 and 3 vehicles will no longer be eligible for the grant.
Category 1: CO₂ emissions of less than 50g/km and a zero emission range of at least 70 miles
Category 2: CO₂ emissions of less than 50g/km and a zero emission range between 10 and 69 miles
Category 3: CO₂ emissions of 50 to 75g/km and a zero emission range of at least 20 miles.
The DfT says the changes, which come into effect in November, 'reflect the ongoing success of the PICG in increasing uptake of electric vehicles'.
However, the RAC says the news is a 'major blow' to anyone looking to buy a greener vehicle.
Nicholas Lyes, RAC head of roads policy, said: "The reduction of the plug-in car grant is a major blow to anyone hoping to go green with their next vehicle choice and makes little sense when we need to focus our efforts on lowering emissions from vehicles.
"Of particular concern, some popular zero emission capable plug-in hybrid models will lose their plug-in car grant altogether.
"With up-front costs still a huge barrier for those hoping to switch to an electric vehicle, this move from the Government is a big step backwards and is in stark contrast to countries like Norway where generous tax incentives have meant that it has one of the highest ownership levels of ultra-low emission vehicles of anywhere in the world."
Since launching the PICG scheme, the Government has rolled out plug-In van and motorcycle grants, available to both private and business buyers across the UK.
Following the Last Mile call for evidence earlier this year, the DfT has also announced plans for a £2m fund which will contribute 20% of the purchase price of new e-cargo bikes, up to a threshold of £5,000.
The DfT says this new funding will help cut congestion and improve air quality, encouraging companies to replace older, polluting vans with a zero emission alternative to 'create a cleaner, greener future'.
---