Ahead of the clocks going back this weekend, IAM RoadSmart, RoSPA and Brake have reignited the debate about the impact of the current system on road safety.
In the UK, clocks follow Greenwich Mean Time (GMT) from October to March and British Summer Time (BST) – which is GMT+1 – from March to October.
For years, road safety organisations have campaigned for change, arguing that one of the consequences of the current system is that more people are killed and injured on roads during darker evenings in the autumn and winter.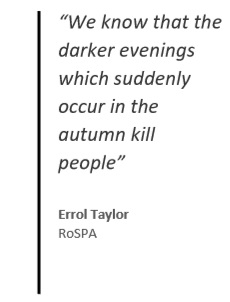 In September, the EU announced it is proposing to end the practice of adjusting clocks by an hour in spring and autumn – a move which was welcomed by RoSPA.
Ahead of a Government debate on the EU proposal, RoSPA is calling on ministers to consider whether the current UK system is still beneficial, or even necessary.
Errol Taylor, RoSPA's chief executive, said: "A move to British Summer Time (GMT+1) all year round, which is one of the options to be considered, could save many lives by providing an extra hour of daylight throughout the autumn and winter.
"We know that the darker evenings which suddenly occur in the autumn kill people – so let's take this chance to do something about this once and for all. It would be a quick and easy win for the Government, and if just one life is saved, it would be worth it.
"The clock change system was created more than 100 years ago when the country was a very different place; there are now more people on the road, there is far more electric lighting and technologies have advanced more than anyone back then could have predicted."
IAM RoadSmart has echoed the sentiment, calling on the Government to scrap the practice in order to cut the number of young children injured in road crashes on their way home from school over the winter months.

The charity points to DfT statistics which show that of the 15,976 children injured on Britain's roads in 2016, nearly a quarter (22%) occurred during the hours of 3-5pm.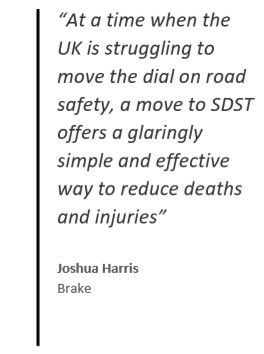 Neil Greig, IAM RoadSmart director of policy and research, said: "Every year there are unnecessary young victims through the winter as children go home in the darkness from school or out-of-hours activities. This is not difficult to achieve.

"We are playing with the lives of children for no good reason. Young pedestrians under 15 are already a huge 'at risk' group for road safety, and that risk becomes even greater as the nights draw in.

"It would be easy to implement, and without question save lives – so there are no good road safety reasons why this isn't happening. The UK should at least trial the idea to prove the benefits once and for all."
Brake is calling on the Government to change to Single/Double Summer Time (SDST) – moving the clocks forward an additional hour all year round to create lighter evenings.
Joshua Harris, director of campaigns for Brake, said: "With summer time ending, and the nights closing in, the danger facing cyclists and pedestrians on our roads increases.
"At a time when the UK is struggling to move the dial on road safety, a move to SDST offers a glaringly simple and effective way to reduce deaths and injuries on our roads and so must be considered seriously by the Government."
---