Nearly 40% of children think encouraging more people to cycle, scoot or walk to school is the best way to reduce levels of air pollution.
A YouGov poll, carried out for Sustrans, questioned more than 1,000 six to 15 year olds about their attitudes towards air pollution and the actions they think should be taken to help clean up the air.
38% said encouraging more children to actively travel to school would be most effective, while 16% felt that reducing the number of journeys taken by car would play the greatest role.
Looking at what would encourage them to walk, cycle or scoot to school, 34% of children cited having a shorter distance to travel – followed by fewer cars on the road (12%) and cycling routes routes separated from traffic (11%).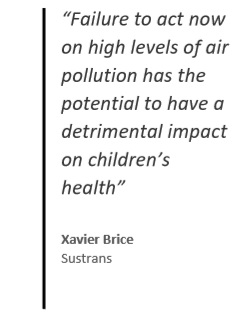 43% of children living in urban areas expressed concern about the levels of air pollution near their school; rising to 53% in London.
The survey was released yesterday (23 April) to mark the launch of Big Pedal 2018 (23 April – 4 May) which, according to Sustrans, is the UK's largest competition for schools designed to encourage more young people to cycle, walk and scoot to school.
Sustrans says more than 500,000 children and young people will participate in Big Pedal 2018.
Xavier Brice, Sustrans' CEO, said: "This survey demonstrates for the first time that children are aware and concerned about poor air quality.
"We wanted to hear their views on the matter, as they are some of the most susceptible to the adverse effects of air pollution, which can lead to poor lung and brain development and asthma if exposed for long periods of time at a young age.
"More needs to be done to improve air quality near schools and help protect future generations. One of the best ways to do this is by reducing the number of journeys taken by car each day in favour of walking, cycling or scooting the school run.
"The UK Government needs to show leadership by helping local authorities fund and deliver better cycling and walking infrastructure so that every child is able to travel on foot or by bike to school in safety and with confidence. Failure to act now on high levels of air pollution has the potential to have a detrimental impact on children's health."
---