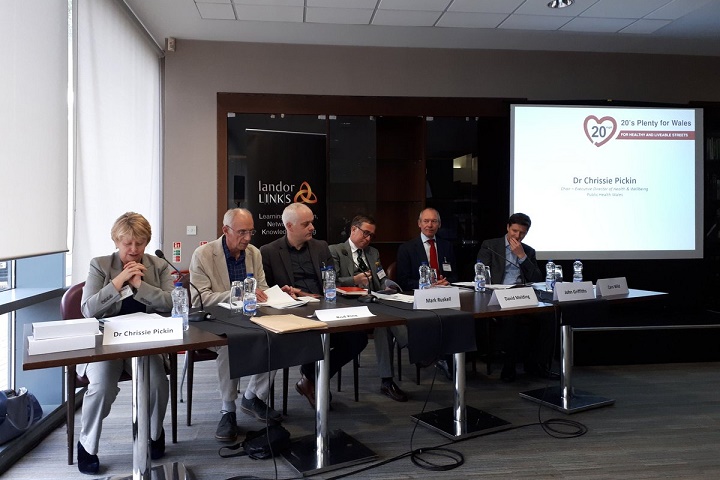 The ninth annual 20's Plenty for Us conference saw delegates discuss the potential to make streets in Wales healthier by introducing a default 20mph speed limit in urban areas.
Around 100 delegates attended the conference on 2 October, which was themed '20's Plenty for Wales'. The event was supported by Cardiff City Council and held at Glamorgan County Cricket Ground.
John Griffiths AM, National Assembly for Wales, shared his support for a 20mph national speed limit and also revealed that he has organised a 20mph round table event at the Assembly.
Rod King MBE, founder of 20's Plenty for Us, set the international context for 20mph as the 'developing norm' for road safety, population and environmental health, active travel, mental health, business and tourism.
Mark Ruskell MSP, the Scottish Green party spokesman on environment, talked to delegates about the Safer Streets Member's Bill – which proposes to lower the default speed limit in urban areas across Scotland from 30mph to 20mph.
The Bill, which has cross-party support, was introduced to Scottish Parliament by Mr Ruskell on 21 September and, if passed, could become law 'by the end of next year'.
Also on the agenda was professor Adrian Davis (recently appointed professor of transport and health at Edinburgh Napier University) and professor Alan Tapp from the University of West of England – who explained how social marketing and engagement plays a large part in maximizing speed limit compliance.
The event also saw the Welsh 20mph Campaigner of the Year award presented to Brendan Sadka of the 20's Plenty for Sully Campaign, and a further campaigner award made to Adrian Berendt for his work in the 20's Plenty for Kent campaign.
Brendan Sadka said: "The case for a replacing the 30mph default speed limit on restricted roads in Wales with a 20mph limit has a powerful evidential base, clear public support and plenty of precedents in the UK and internationally."
As is the case across the UK, the introduction of a default 20mph limit in urban areas is a hot topic in Wales.
Last month, a report by the Institute of Welsh Affairs called on the Welsh Government to impose such a limit, with local authorities given discretion to exempt routes where justified.
The report states: "Speed limits of 20mph have been shown to have a significant impact on the extent of injuries arising from collisions between motor vehicles and pedestrians or cyclists."
A default 20mph limit has also been recommended by Public Health Wales which projects annual savings of up to £94m in terms of injuries, and £61m in air pollution related ill health.
Devolution means that, since April 2018, the Welsh Assembly has been able to set national speed limits separately from Westminster.
Rod King MBE, founder and director of 20's Plenty for Us, said: "With respected Welsh organisations backing 20mph there is a real sense of top down validation.
"We know how 20mph as the normal road speed for built up areas is an enormous public health, economic and environmental win-win.
"Wales can decide to push ahead and go 20mph without the costly and time-consuming disadvantages of doing it authority by authority. It can combine national cost-effectiveness and consistency with local flexibility to deliver a real benefit to all communities.
"I was delighted with the response to the conference and look forward to engaging more with cross-party politicians on the next stage towards a change in Welsh speed limit law."
---