The Local Government Association is calling for the Government to provide a fully-funded plan for the growing number of vehicles on England's roads, as well as new powers to better manage congestion.
Figures highlighted by the Local Government Association (LGA) show that drivers in England travelled 277bn miles in 2017 – a year-on-year rise of 2.2%.
The figure is also 17.4bn (7%) higher than 2010, when 259.6bn miles were travelled.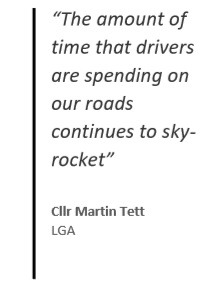 The LGA, which represents 370 councils in England and Wales, is calling on the Government to recognise the need to match the increased infrastructure pressures and demand on local roads with additional funds.
Among the LGA's recommendations is for the Government to reinvest 2p per litre of existing fuel duty – which it says would generate £1bn a year for councils to spend on local roads maintenance.
Cllr Martin Tett, LGA transport spokesman, said: "The amount of time that drivers in the UK are spending on our roads continues to sky-rocket, with motorists driving the equivalent of 989 trips to Mars and back, two thirds of which were on local roads.
"This consistent increasing use of our roads means that it is more important than ever for the Government to further invest in local roads.
"Only long-term and consistent investment in local road maintenance will allow councils to embark on the widespread improvement of our roads that is desperately needed, to the benefit of all road users up and down the country.
"The LGA has been calling on the Government to reinvest 2p per litre of existing fuel duty into local road maintenance which would generate £1bn a year for councils to spend on improving roads and filling potholes and begin addressing the £9.31bn roads repair backlog."
---