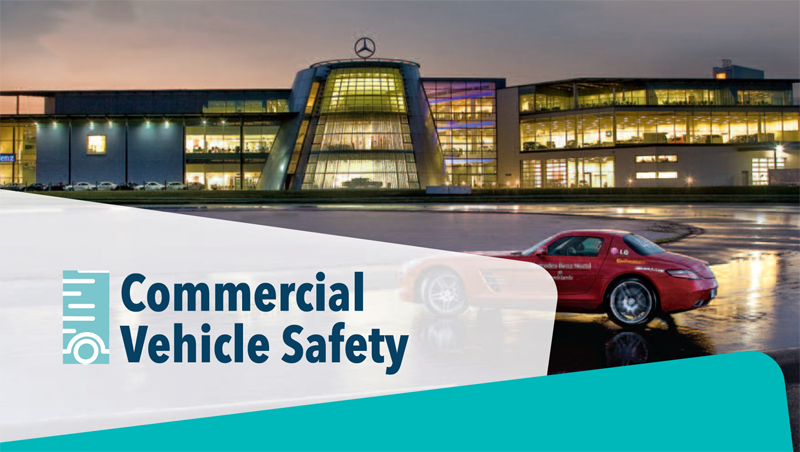 Collisions involving van drivers and the wellbeing of older professional drivers are two of the topics for discussion at a free-to-attend conference taking place in spring 2020.
The conference, titled 'Commercial Vehicle Safety: The Challenges & Opportunities', takes place at Mercedes Benz World at Brooklands near Weybridge in Surrey on 1 April. It is intended for commercial vehicle fleet operators across south east England.
It is being organised by Highways England in partnership with the Driving for Better Business campaign and the five road safety partnerships in the south east – Hampshire, Kent, Surrey DriveSmart, Sussex and Thames Valley.
The aim of the conference is to help fleet operators understand key road safety issues, and provide a set of tools and resources to help them improve their safety performance and reduce collisions.

The agenda is taking shape, with nine speakers now confirmed.
In a presentation titled 'What do we really know about the van fleet and its drivers?', Heather Ward, an honorary senior research fellow at University College London (UCL), will examine what other vehicles and road users are involved in collisions with vans, and resultant injuries to van drivers.
Heather's presentation will also look at the 'gig economy', specifically with regard to van drivers involved in parcel deliveries.
Dr Sheena Johnston, a senior lecturer at Manchester Business School, will discuss the health and wellbeing of older professional drivers.
Dr Johnston will introduce the Age, Health and Professional Drivers' (AHPD) Network, which works alongside drivers and managers to support older drivers in the workforce.
She will also outline the AHPD Network's best practice guidelines, which cover 10 areas of health and wellbeing that research has identified as significant for older drivers.
There are just 90 delegate places available at the conference, which will be allocated on a strictly 'first come, first served' basis. More than 50 people have already registered to attend.
For more information, or to register to attend (FOC), visit the conference website or contact Sally Bartrum or Sharon Wilkinson on 01379 650112.
---