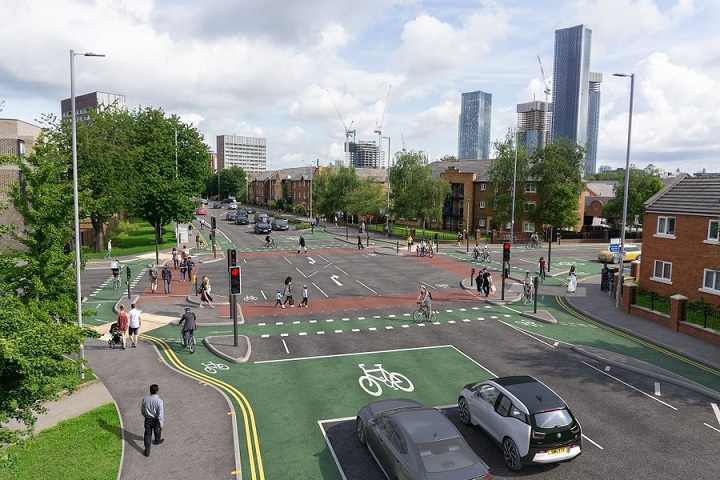 Work to create a 'UK-first' junction – which separates cyclists from motor traffic and provides more space for pedestrians – is underway in Manchester.
The CYCLOPS (cycle optimised protected signals) junction forms part of a new £13.4m walking and cycling route, which will link Manchester to the suburb of Chorlton.
The route is being delivered by Manchester City Council, with improved crossings and segregated routes among its key features – along with the CYCLOPS junction at Royce Road.
The principal feature of the junction is an orbital cycle route, which separates cyclists from motor traffic, in turn reducing the likelihood of collisions and conflicts.
It enables cyclists to make fully protected two-phase right turns and filter left onto and off the orbital route without signal control.
Meanwhile, pedestrians are able to cross in fewer stages and with more space to wait than in other junction designs.
Cllr Angeliki Stogia, Manchester City Council's executive member for the environment, planning and transport, said: "We're excited to make progress with our ambitious plan to create a new walking and cycling route from Manchester to Chorlton.
"With better crossings and segregated routes, including the innovative new CYCLOPS junction, this project will make it much safer and easier to walk and cycle along this busy route."
---