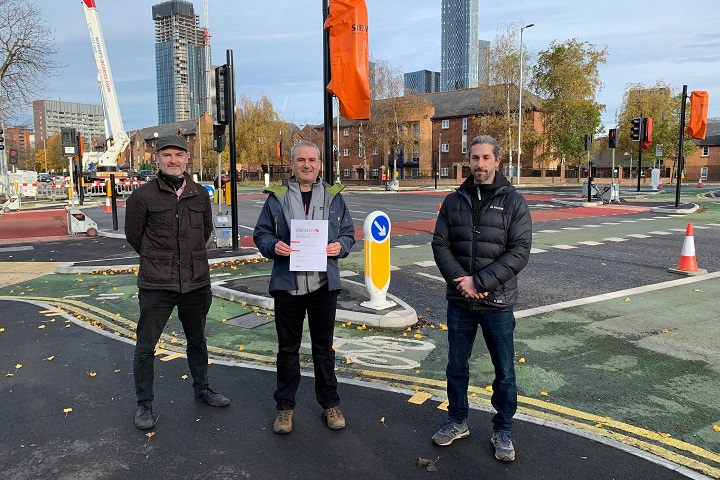 Transport for Greater Manchester and Manchester City Council have been named winners of a new award presented by Brake, in collaboration with Road Safety GB.
Brake's inaugural Vision Zero Leaders Awards recognise achievement in three categories: Local Roads Innovation, Community Campaign Achievement, and Youth Leadership.
Brake says the new awards 'celebrate the hidden champions leading the way to safe and healthy roads and a world with zero road deaths and serious injuries'. 
Transport for Greater Manchester (TfGM) and Manchester City Council won the Local Roads Innovation Award for a CYCLOPS (cycle optimised protected signals) junction in Hulme. This category was presented in partnership with Road Safety GB who helped judge the entries and select the winner. 
The innovative junction forms part of Greater Manchester's Bee Network and places the cycle route on the outside of the pedestrian crossings, fully segregating cyclists and improving safety for all users.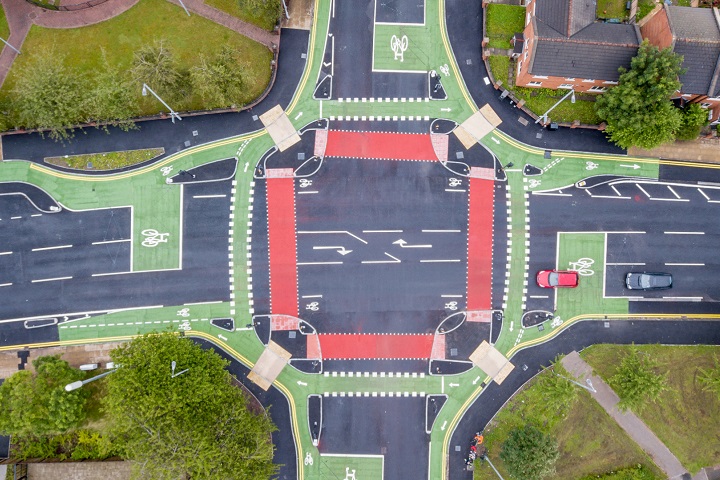 TfGM engineers Richard Butler and Jonathan Salter, who designed the junction, said: "Safety is paramount to every design we develop, so to be recognised by a road safety charity for the part the CYCLOPS plays in keeping people safe while enabling them to travel more actively, truly is the pinnacle for us."
The Community Campaign Achievement Award went to Amanda Russell who  started campaigning for 20mph speed limits in Faversham in 2015. 
Amanda's 20's Plenty campaign group held public community events to explain the benefits of 20mph and gradually built support, finally achieving a town-wide 20mph trial scheme, the first in Kent.
Amanda Russell said: "I hope our story can spur on more people to campaign for safe speeds. 
"The 20mph limit in Faversham will make our streets, and in fact the whole community, feel so much more welcoming, especially for people wanting to get about by foot or by bike."
Three students from Murray Park Community School, in Mickleover near Derby, won the Youth Leadership Award for their 'outstanding work' in raising  road safety awareness in their school and local community.
Arjun Binning, Archie Couchman and George Ogan delivered presentations to fellow students at Murray Park and to 250 students at the local junior school, St. Peters CE. 
The trio wrote to the Prime Minister, receiving a response, and had plans to visit Westminster to speak with MPs, currently on hold due to lockdown. 
Joshua Harris, director of campaigns at Brake, said: "Across the country, there are people working tirelessly to improve road safety who don't often get the recognition they deserve. 
"From students, to community campaigners to local authority road safety teams and engineers there is so much to be proud of and these combined efforts help set us on the path to our vision – a world with zero road deaths and serious injuries."
For more information about the awards and winners visit www.brake.org.uk/VZLawards.
---