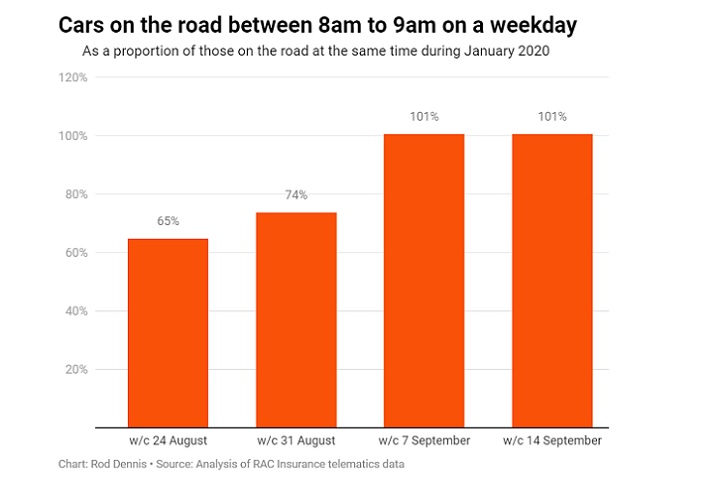 The beginning of the school year in England has seen morning rush hour traffic return to pre-pandemic levels – despite the fact a significant proportion of people are still working from home.
Data from drivers with RAC black box devices fitted shows since 7 September, average weekday traffic between 8am and 9am is the same as recorded in January 2020.
It is also 55% higher than the period before most schools had returned (week beginning 24 August).
The RAC describes the figures as alarming, and says they appear to show that the UK's morning rush hour is caused more by people dropping children off at schools and nurseries than it is by commuters heading to places of work.
The organisation adds it is 'abundantly apparent' how dependent parents are on the car for getting children to their places of study or play during the week.
Rod Dennis, RAC Insurance spokesperson, said: "While schools reopening was always going to lead to a rise in vehicle traffic, the fact that between a fifth and a third of the UK workforce is still working remotely shows just what role the school drop-off plays in creating the phenomenon we know as the morning 'rush hour'.
"In short, it appears dropping off children at schools and nurseries contributes far more to morning traffic in the 8am to 9am window than commuters heading to workplaces does, which is a surprising finding in itself.
"What's abundantly apparent is how dependent parents are on the car for getting children to their places of study or play during the week – and with fewer people prepared to take public transport at the moment, the reliance on the car as the transport mode of choice has increased."
---