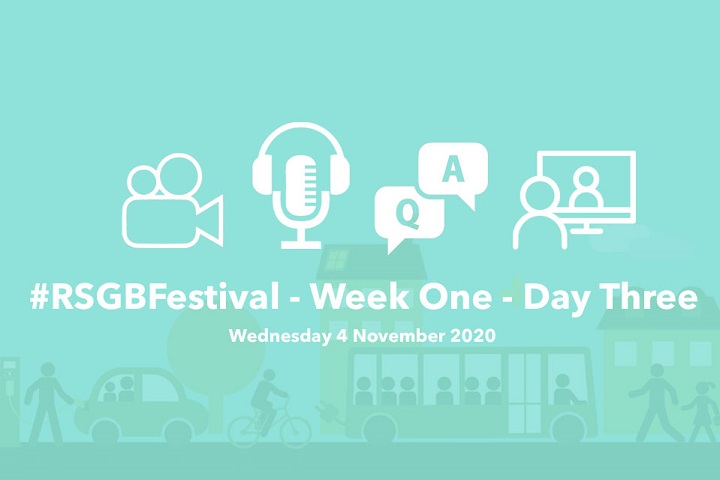 The first week of the Festival of Road Safety reaches the midway point today, with the event's inaugural workshop focusing on a new course developed by the Road Safety GB Academy.
Organised by Road Safety GB, the Festival of Road Safety will see more than 40 pre-recorded and live sessions broadcast throughout November (2-27 Nov).
Day three in detail
Wednesday 4 November kicks off at 10am with a fringe presentation focusing on the use of data to identify and promote active travel solutions – delivered by Steve Ferris, programme manager, Agilysis and Safer Roads Berkshire.
This is followed at 2pm by a workshop facilitated by Alan Kennedy, executive director of Road Safety GB, which will delve into a new course developed by the Road Safety GB Academy – titled 'Introduction to road safety delivery'.
As well as an overview of the course, Alan will also deliver a session around the 'conscious and subconscious mind'.
This workshop, along with the three others being held later in the month, is fully subscribed.
Looking ahead to day four
Thursday 5 November has a focus on roads policing and enforcement.
The day gets underway at 10am with a keynote presentation from assistant chief constable Steve Barry, from the Department for Transport.
ACC Barry will provide an update into the Government's review into roads policing.
Launched in July, the review sets out to help stakeholders better understand how enforcement can be utilised to reduce road casualties.
This will be followed at 2pm by a Fringe presentation by Tim Gibb, founder and CEO, AutoSpeedWatch.
Titled 'Why are we wasting our time with speed enforcement?', the presentation will provide a controversial but experience-driven explanation of how and why we are wasting time, effort and lives with speed-enforcement approaches.
The full four-week programme is published on the Festival website. For more information contact either Edward Seaman or Nick Rawlings by email, or alternatively on 01379 650112.
---