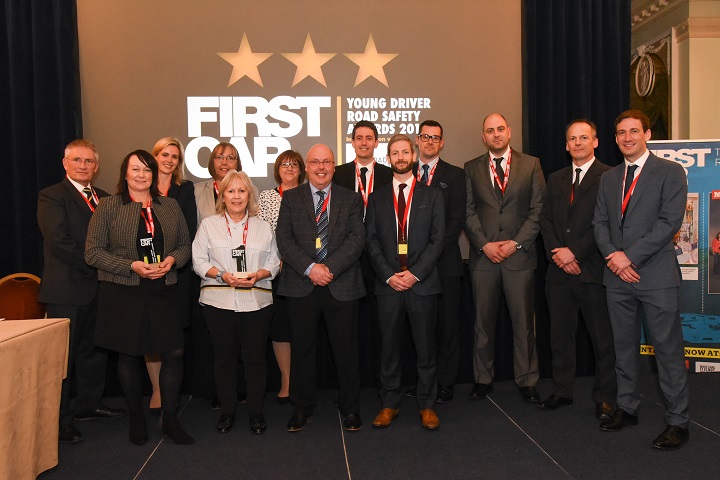 The organisers have issued a reminder to road safety teams that the deadline for submissions for the 2019 Young Driver Road Safety Awards is just three weeks away.
FirstCar launched the Young Driver Road Safety Awards in 2015 to reward the 'unsung heroes' in road safety and 'recognise the excellent work of road safety professionals' in seeking to reduce casualties among young drivers. The awards are now established and sought after by road safety professionals.
The 2019 awards are once again sponsored by Road Safety Support (RSS) and will be presented at the Young Driver Focus conference – which takes place at the Royal Automobile Club in Pall Mall, London on 1 May.
For 2019, there are six categories: New Scheme, Education and Training Initiative, Partnership Scheme, Young Driver Media Campaign, Private Sector Initiative and the Lifetime Achievement Award.
The winners will be selected by a panel of judges with extensive industry experience, who will be looking for schemes with clear and measurable aims and objectives.
The 2019 awards are open to campaigns and initiatives which have run between 1 January and 31 December 2018, and the deadline for entries is 11 February 2019.
James Evans, founder of FirstCar, said: "We are delighted with how successful the awards have become and are very keen to recognise all the hard work that goes on in this sector, which is often unrewarded.''
Emma Kelly, business development and PR manager at Road Safety Support, said: "'We need innovative projects that are well evidenced and robustly evaluated to help us to reduce collisions involving young road users.  
"Partnering with FirstCar via the awards is so important in assisting us to push the boundaries and share new and innovative methods."
The 2018 winners (featured image) were: Cambs Drive iQ (Education and Training ), 'Speak Out' (New Scheme and Media Campaign), Drivestart (Partnership Scheme) and 02 Drive, Box on Board (Private Sector).
Click here for more details about the awards and how to apply, or for more information contact FirstCar via email.
---