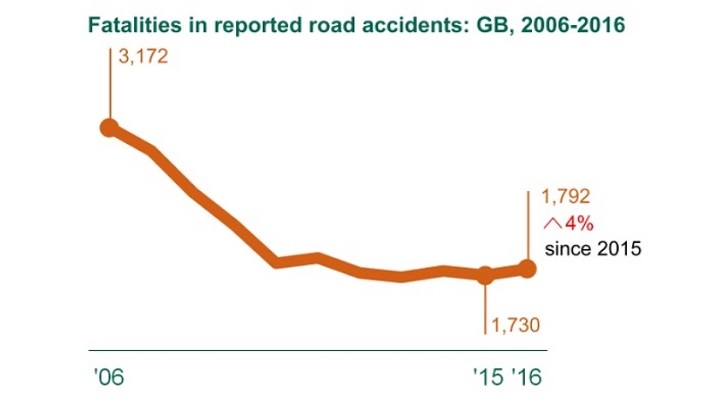 The DfT has announced that the planned release of 2017 casualty data, due at the end of June, has been postponed until September.
The postponement of 'Reported road casualties in Great Britain, main results 2017' has been put down to 'the unavailability of complete 2017 data for London'.
As a consequence, the DfT will not be publishing quarterly provisional estimates for January to March 2018, previously scheduled for August.
This is the second year in a row that the DfT has postponed the publishing of casualty statistics. In 2017, it blamed 'a delay in the supply of data from some data providers'.
The DfT statement reads as follows:
"Due to the unavailability of complete 2017 data for London, the DfT is announcing a postponement to its reported road casualties Great Britain, main results: 2017 publication, which had been scheduled for end June 2018.

"This publication traditionally gives the first release of final key casualty statistics for the previous calendar year.

"Data for London is collected by the Metropolitan Police Service (MPS) and validated by Transport for London (TfL). TfL and MPS data comprises more than 15% of Great Britain's road casualty data. Without a complete set of Stats 19 records it is not possible for DfT to validate and produce a national data set.

"The delay is due to data supply issues and DfT have met regularly with TfL and MPS in order to understand and resolve these issues. TfL and MPS are working together to expedite the delivery of 2017 data and to improve the timeliness for 2018 data.

"The expectation is that the main results will now be published at end of September once the data for London has been supplied and fully validated.

"As a consequence of the delay, the department will not be publishing quarterly figures in Reported road casualties in Great Britain, provisional estimates: January to March 2018, previously scheduled for August 2018. The next quarterly publication is expected in October, covering the period January to June 2018 (quarter 1 and 2)."
---