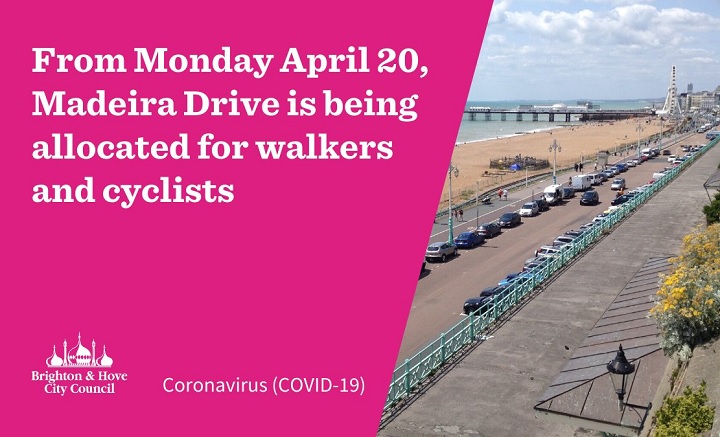 The DfT has moved to make it easier for local authorities in England to impose car-free streets during the coronavirus pandemic, in a bid to enable key workers to walk and cycle more safely.
On 21 April, the Government agency issued guidance to councils, confirming it has temporarily removed some of the red tape which governs temporary road closures.
Normally to implement a road closure, councils must apply for a traffic regulation order (TRO) – a process which includes a number of requirements, many of which relate to advertising.
The DfT acknowledges some of these elements are difficult to implement due to current restrictions and as a result, is removing the following the requirements:
the publishing of TRO adverts in local newspapers 

the posting of site notices on streets 

making TROs available for public inspection
The DfT hopes the move will help councils close more roads, in able to help people – in particular key workers – to walk and cycle while social distancing.
It adds the temporary guidance will be withdrawn once conditions allow.
Current roads set-up 'isn't facilitating' social distancing
Brighton and Hove City Council has already moved to closed off a major road to allow people to carry out social distancing while walking, running or cycling.
The move comes as cities respond to a decrease in traffic numbers as a result of the coronavirus restrictions and look at opportunities to temporarily open up more space on roads for their residents to keep healthy during lockdown.
Cllr Anne Pissaridou, chair of the city's environment, transport and sustainability committee, said: "Madeira Drive is a long, wide road right by the seafront and will create an extra safe open space for local people in the area to use for their daily walk or bike ride.
"It will provide a traffic-free place for the many residents in that area who do not have access to a garden."
The road closure initiative has been supported by a number of organisations, including Barts NHS Trust, Cycling UK, British Cycling, Sustrans, Brompton Cycles and The Ramblers.
Jonathan Kelly, deputy director of operations at Barts NHS Trust, told BBC News: "People require more public space to socially distance safely and the current set-up of the roads isn't facilitating that adequately.
"As we move out of the virus, it's important to maintain that distance to avoid infection.
"Personally, I would like to see many more road closures in future to allow people to use forms of travel that are good for them and good for the planet."
---