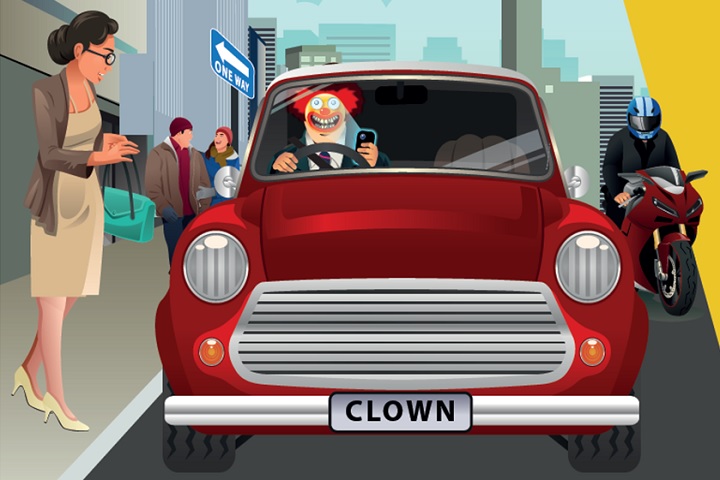 Drivers and pedestrians in Glasgow are being targeted by a new campaign which seeks to raise awareness of the dangers of being distracted by a mobile phone.
Devised by Glasgow City Council's road safety unit in partnership with Police Scotland, the four week campaign launches on Monday (6 September).
The 'Distraction' campaign will raise awareness of the dangers of using mobile phone technology when crossing the road and, more importantly, while driving.
The message to drivers is 'don't be a clown, put your phone down' – while to pedestrians it is 'don't be fatally distracted: heads up, phones down'.
The campaign is being supported by a raft of advertising, with the campaign posters being displayed on bus sides, outdoor digital boards, a Radio Clyde advert, a Glasgow Times advert and through social media channels.
The campaign runs until 4 October.
In August, Glasgow City Council launched a new road safety strategy, with the aim to eliminate all road fatalities or serious injuries by 2030.
Glasgow's new Vision Zero approach will be based upon creating a 'Safe System' for the city's road network that is designed to minimise the likelihood of collisions occurring, but also reduce the consequences of such events when they do happen.
A range of measures have been identified as essential for the creation of the system, including improved road safety engineering and enforcement, introducing safety cameras at key locations, initiatives that improve road safety around city schools, education projects, cycle training schemes and road safety campaigns.
---