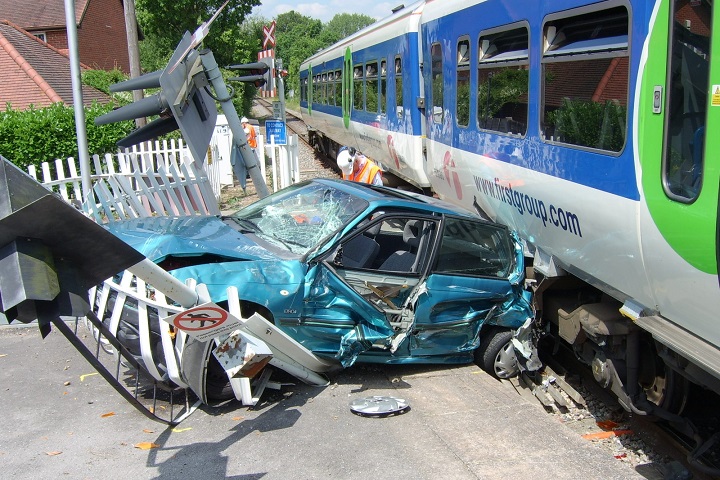 One in seven drivers are taking dangerous risks at level crossings every day, according to a Network Rail survey.

The Network Rail survey forms part of new campaign to remind drivers of the dangers of not following the safety instructions at a level crossing.
The campaign, developed in partnership with the British Transport Police, focuses on all drivers – although officials are working with specific groups such as van and delivery drivers.
The survey, published on 3 October, suggests one in seven drivers would not wait for the barrier to open at a level crossing before passing.
The findings also show that one in nine (11%) drivers would 'go straight over a level crossing' if they had checked the train timetable and believed no train was coming.
Network Rail says this is 'particularly dangerous' as freight trains or other trains not listed on the public timetable 'often pass through level crossings at speeds of up to 100mph'.
31% of respondents said they have never been taught how to use a level crossing.
Every week around 46 incidents involving vehicles take place at level crossings across the country. Lorries are the most common specific vehicle type involved (32%), followed by cars (28%).

In the last five years, six people have lost their lives in vehicles at level crossings, with many more injured.

Allan Spence, head of public and passenger safety at Network Rail, said: "It's clear that there is a lack of knowledge around how dangerous railway crossings can be.
"We are seeing drivers take risks at level crossings every day – putting themselves and others in danger. Nothing is worth risking your life over, just to save a few minutes of time."
Inspector Becky Warren, British Transport Police, said: "We run a number of activities at level crossings throughout the UK. We want to raise awareness, help to educate drivers in how best to use level crossings and the potential dangers and consequences of deliberate misuse.
"Failing to stop when the lights come on, or worse still when the barriers start to come down, not only puts you and others in danger but these are also offences which will lead to you being prosecuted."
---