New research shows drivers who take a speed awareness course are as much as 23% less likely to reoffend in the six months after a first offence, compared to those who accept the fine and points.
Published by the DfT today (14 May), the study – carried out by IPSOS Mori and the University of Leeds – used speed offending data made available by 13 police forces in England for the period from 2012 to 2017.
Data was provided for 2.2m drivers, of whom 1.4m had opted to participate in the National Speed Awareness Course (NSAC).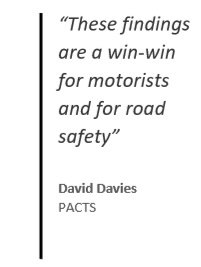 The study found that drivers who attend the NSAC are between 12-23% less likely to reoffend within six months of committing their first offence – a figure which drops to 9-17% within 12 months, 9-11% within the first two-years, and 6-13% within three years.
The NSAC is offered to motorists who commit low level speeding offences as an alternative to a fine and three points on their licence. In 2017, 1,195,356 offenders attended the course, which costs £100.
Jesse Norman, roads minister, told RAC News that the study shows the NSAC is 'clearly working well in preventing drivers from putting other road users at risk by breaking speed limits'.
Road Safety GB has welcomed the findings, saying that speed awareness courses can help drivers who have "made a genuine mistake or error in judgement".
Steve Horton, Road safety GB director of communications, said: "Most drivers who accept the opportunity to take a speed awareness course are likely to have made a genuine mistake or error in judgement; perhaps they struggle to work out what the speed limit is for the road they are on, perhaps they just don't appreciate the significant impact on severity that even small increases in speed could have in a crash, or perhaps they were just driving on habit.
"In the main these 'error makers' can benefit from reasoned discussion to reflect on how they drive or from help to interpret the rules that identify speed limits. The research here shows that when this is done well 'error makers' can make their own choice to adapt their behaviour and better avoid breaking speed limits.
"Whilst speed isn't the only risk factor in driving, there is no doubt that if you crash then the faster you travel the harder you will hit, so the basics of adhering to legal limits is the very least we should be doing to support safer roads. Once the limit is accepted, then it frees up drivers to judge the appropriateness of their speed for time and place."
David Davies, executive director of the Parliamentary Advisory Council for Road Safety (PACTS), told RAC News: "These findings are a win-win for motorists and for road safety. We knew that drivers who attended speed awareness courses found them useful and preferred them to penalty points which have no educational value.
"Now we know that speed awareness courses also have bigger safety benefits."
The Alliance of British Drivers, however, says the report shows 'no benefit from speed awareness courses'.
The lobbying group points to a 'key statement' in the executive summary which says "this study did not find that participation in NSAC had a statistically significant effect on the number or severity of injury collisions".
In a typically robust media statement the Alliance of British Drivers goes on to say that "this unethical and legally dubious diversion of drivers to speed awareness courses is primarily about generating money, not about road safety because there is no evidence of any real benefit".
---