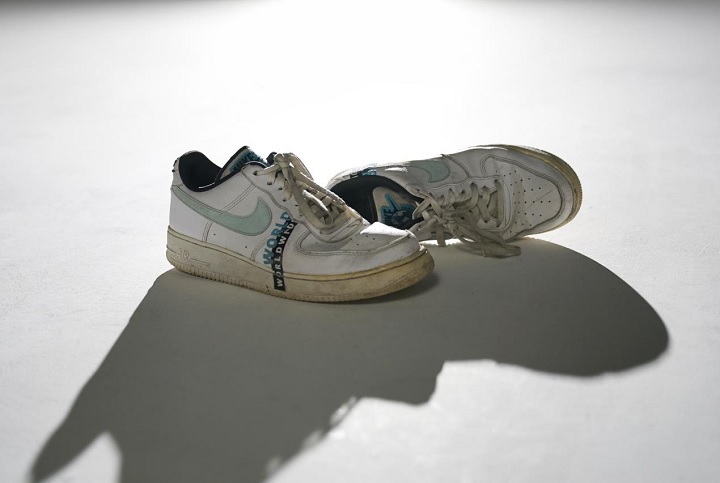 The family of a teenager who was killed by a dangerous driver are backing a new campaign urging motorists to take more care on darker nights and reduce the harm caused to pedestrians on Greater Manchester's roads.
Marcus Simmons-Allen, 18 years, was crossing the road after dark with a friend when he was hit by a car travelling at around twice the speed limit on George Richards Way in Altrincham.
The collision happened two years ago near to Marcus' home in Broadheath – it was his mother, Paula Allen who found her injured son after being alerted to the crash by his friend.
Marcus' family are now backing the 'Last Steps' campaign, launched by Safer Roads Greater Manchester.
As part of the campaign, Paula and her family have agreed to share images of Marcus and the trainers he was wearing on the night of the crash, to illustrate the human cost of reckless driving.
Paula and her niece Georgia Ford also feature in a video to promote the campaign.
Paula said: "The ripple-effect caused by a fatal collision extends beyond immediate family; the loss of Marcus is still felt by the community and his group of friends, who he spent so much time with over the years.
"I would never want another family to go through what we have and I would urge all drivers to take extra care on darker nights and always keep a look out for pedestrians crossing the road."
In 2022, 25 pedestrians were killed on Greater Manchester's roads, equating to 39% of all fatalities.
---
Safer Roads Greater Manchester has published some top tips for safe driving in the dark:
Look carefully: Keep an extra eye out for pedestrians, as they're much harder to spot in the dark.
Be patient: Give people the time they need to cross the road at junctions and crossings.
Watch your speed: Take your time, look out for unexpected movements, and be ready to stop safely. Most pedestrian collisions take place in a 30mph zone.
Stay alert: Take extra care around schools and residential areas. Don't drive if you're too tired.
Check your vehicle: Keep your windows and mirrors clean and clear of condensation and frost. Make sure all your lights are working and you're using them right.
---
Peter Boulton, Transport for Greater Manchester's head of highways, said: "What Marcus and his family have suffered as a result of dangerous driving that night is truly heartbreaking, and they will never get their loved one back.
"Sadly, their story is not the only one and in the following year, 2022, a further 25 people were killed crossing Greater Manchester's roads.
"These numbers are far too high and as the nights become darker, I would urge all drivers to take extra care and always keep an eye out for people on the road.
"If you drive, make sure you stay alert and look out for pedestrians in the dark."
---