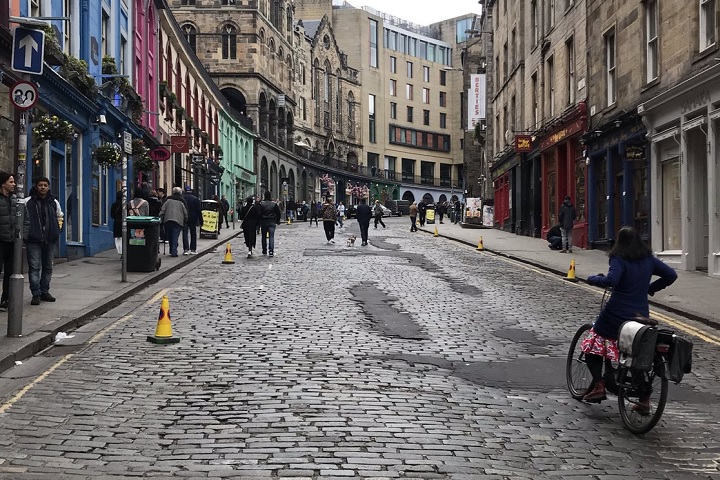 A car-free day was staged in Edinburgh city centre on Sunday, as part of an initiative to encourage active travel and tackle air pollution.
The Open Streets scheme, which is being trialled by City of Edinburgh Council for 18 months, will see motorised traffic banned in the Old Town area on the first Sunday of every month.
The first car-free day took place on 5 May, with a series of events organised to celebrate the launch, including electronic bike trials and the free use of hire bikes.
Cllr Lesley Macinnes, City of Edinburgh Council's transport and environment convener, said: "Climate change is a real threat to society, it's clear that we have to act, and Open Streets is undoubtedly a step in the right direction.
"We are wholeheartedly committed to creating an accessible, sustainable and people-friendly city."
Edinburgh has become the first city in the UK to join the Open Streets movement.
The council aims to replicate the success of similar events in cities like New York, Paris and Brussels – where regular car-free days have 'revolutionised' the way people use their streets by encouraging healthy, active travel, inclusivity and cultural appreciation.
The council also hopes Open Streets will demonstrate how spaces can be shared and re-configured in the future, to promote sustainable travel.
Cllr Macinnes added: "We've seen how successful similar schemes internationally have proved by encouraging active travel, improving air quality and creating a safer, more relaxed atmosphere so I can't wait to see this take shape."
---