IAM RoadSmart is calling on the Government to introduce an emergency package of measures to tackle the rise in drink drive related deaths.
Provisional figures for 2017, published by the DfT on 14 February, show that 290 people were killed in collisions where at least one driver was over the drink-drive limit – the highest number since 2009.

The figure, which equates to approximately 16% of road deaths in 2017, is 26% higher than 2016 – when there was an estimated 230 drink drive related deaths.
Expressing concern about the increase, IAM RoadSmart says there is 'no one simple answer to reducing these figures'.
The charity is calling for the introduction of measures including lowering the drink-drive limit in England and Wales to match Scotland, the wider use of drink-drive rehabilitation courses and seizing the vehicles of repeat offenders.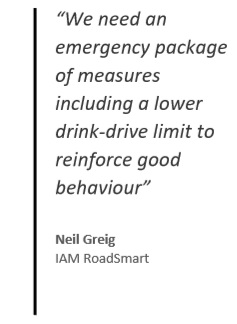 Neil Greig, director of policy and research at IAM RoadSmart, said: "Once again progress on reducing the toll of death and injuries from drink-driving has stalled with a worrying increase in 2017.

"There is no one simple answer to reducing these figures but IAM RoadSmart believe we now need an emergency package of measures including a lower drink-drive limit to reinforce good behaviour, fast-track of evidential roadside testing machines to release police resources and innovative approaches to help drivers with alcohol problems.

"Rehabilitation courses work and we think all those convicted of drink-driving should be sent on one automatically rather than having to opt in.
"More use of alcohol interlocks and extra penalties such as vehicle forfeiture, as used in Scotland, could all be part of more joined-up approach to the problem."
The road safety charity Brake and the RAC have joined IAM RoadSmart in expressing concern about the 2017 drink drive statistics.

Brake says the current drink-drive limit in England and Wales 'gives a false impression that it is acceptable to mix alcohol and driving'.
Josh Harris, director of campaigns for Brake, said: "With England and Wales now having the dubious honour of the highest drink-drive limit in Europe, we have to ask how many more lives must be lost for the Government to act on drink driving?
"Even very small amounts of alcohol dramatically affect your ability to drive safely. Decisive action is needed to end this blight on our roads and prevent the needless loss of life."
The RAC says drivers think they can get away with drink driving because of the the reduced number of roads policing officers.
Pete Williams, RAC road safety spokesman, said: "Looking at these estimated figures there could be an increase of up to a 33% in the number of road deaths resulting from an accident where one or more drivers was over the drink-drive limit.
"This is a serious cause for alarm and reflects a worrying change in attitude by a number of drivers who are prepared to risk their own life and that of others by drinking and driving.
"With the reduced number of roads policing officers it appears more drivers are thinking they can get away with drinking and driving. However this is a major issue for society and we need to refocus our efforts to raise awareness of the risks."
---