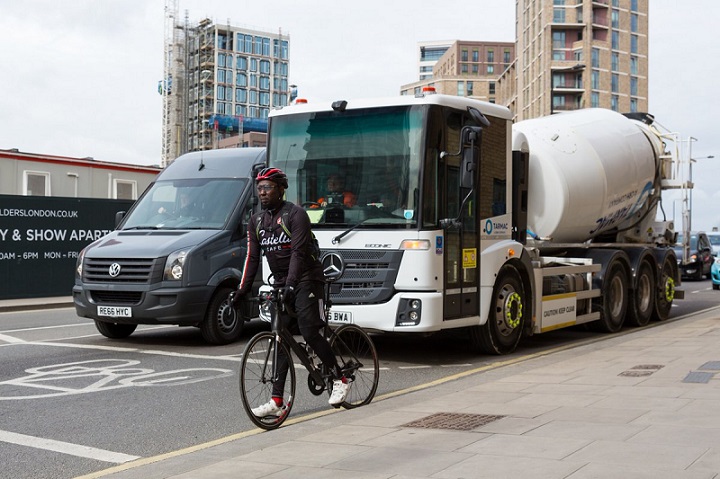 Enforcement of an initiative to protect vulnerable road users in London from the 'most dangerous' heavy goods vehicles will get underway on 1 March, TfL has announced.
First announced in 2016, the Direct Vision Standard aims to tackle road danger at its source by minimising blind spots on HGVs.
Under the standard, HGVs are categorised depending on the level of a driver's direct vision from a cab – and will be given a rating between 'zero-star' (lowest) and 'five-star' (highest).
Only vehicles rated 'one-star' and above have been able to operate in London from October 2020. However, due to the Covid-19 pandemic, TfL delayed enforcement of the rules.
It has now announced that from 1 March anyone driving an HGV without a valid safety permit will receive a penalty charge notice of up to £550.
The latest data from TfL shows that HGVs continue to be disproportionately involved in fatal collisions. Between 2018 and 2020, HGVs were involved in 41% of collisions where people cycling were killed and 19% of collisions where a pedestrian was killed.
Ahead of 1 March, TfL is encouraging HGV operators to apply for a free safety permit as soon as possible.
Christina Calderato, TfL's head of transport strategy and planning, said: "Introducing the Direct Vision Standard will be a huge step forward for road safety in London.
"We've worked closely with manufacturers, operators and stakeholders – including RoadPeace and Living Streets – to develop our new lorry safety scheme, which we're proud to say is the first of its kind.
"We understand that the freight industry has been exceptionally busy during the Covid-19 pandemic and as a result we delayed enforcement of the Direct Vision Standard until 1 March, giving HGV operators more time to improve the safety and emissions of their vehicles."
---