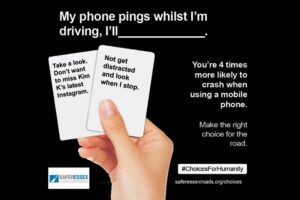 A new campaign, based on a popular party game, has been launched to encourage drivers in Essex to make better choices on the county's roads.
The Choices for Humanity campaign takes inspiration from the 'humorous and sometimes contentious' 'Cards against Humanity' game – in a bid to draw attention to the safety of vulnerable road users.
The campaign was originally produced by the Dorset Road Safety Partnership – and is now being utilised by the Safer Essex Roads Partnership (SERP).
The SERP campaign launched on 21 May and in its initial stages will primarily focus on social media. It will expand to include out of home media in key locations once coronavirus restrictions are eased further.
Nicola Foster, chairman of SERP, said: "This campaign is designed to draw everyone's attention to the need to look out for those more vulnerable than themselves on the road.
"Most of us like to think we are a safe and considerate road-user, but sometimes other drivers, cyclists or motorcyclists do something we think they shouldn't so we don't leave them as much space as we could and we don't slow down to give them more time. 
"We contribute to the situation rather than resolve it and sometimes that can have horrendous consequences.
"There are likely to be more people using bicycles, motorbikes and walking as they return to work and we are asking everyone on the road to make the right choice for the road – it's not a game. Your choice really can make a difference to the safety of others."
---