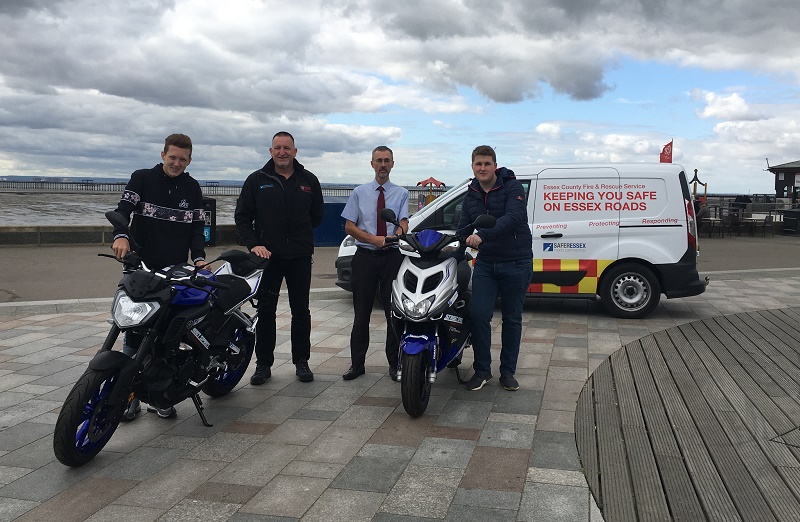 A young rider campaign in Essex has been hailed a 'great success', enabling practitioners to share safety tips with the county's most at-risk road user group.
Organised by the Safer Essex Roads Partnership (SERP), the Street Spirit campaign invited young powered two wheeler (P2W) riders to enhance their knowledge on safe riding by watching five short videos and completing a quiz.
Those who completed the quiz were automatically entered into a competition, giving them the chance to win one of two new bikes.
The winners of the competition – Stephen (17 years) and Jamie (18 years) – were presented with their bikes in Southend last month. They were also given a year's free insurance and full protective clothing as part of their prize.
Stephen described the competition as a "great way of teaching young riders the key principles of staying safe on the road, and riding legally".
He said: "The campaign elaborated on skills taught on the CBT to stay safe while riding, and also taught me how to properly maintain my bike and how to check it's in a safe condition to ride. 
"It also taught me how to properly gear myself to ride, which is just as important as riding on a well maintained bike."
Data shows riders of PTWs are the highest road user risk group in Essex. In 2016 they made up just 0.8% of the traffic but were represented in over 26% of all collisions involving death or serious injury.
Andy Stroulger, RTC reduction manager and motorcycle lead for SERP, said: "Young riders between the ages of 16 and 25 years old are particularly vulnerable on the roads of Essex, and are involved in a significant proportion of collisions. 
"Our Street Spirit campaign has been a great success in enabling us to engage with current and potential young riders and provide some useful learning about the risks and consequences of being out on the roads. 
"We received almost 500 competition entries for the two prize bikes and I would like to congratulate our two winners on their success. I hope they will enjoy riding their new bikes and be ambassadors for safe riding."
A refreshed version of the campaign will run again next year with the addition of a virtual reality training film.