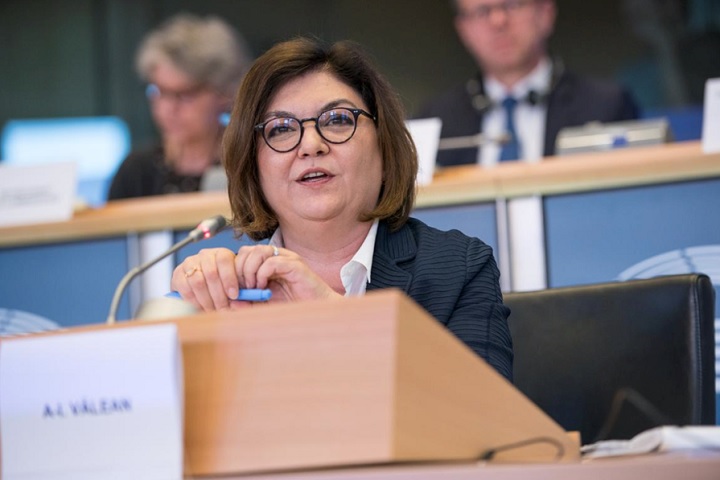 Our latest round-up of road safety news from across Europe – courtesy of TISPOL – includes details of a new European commissioner for transport.
Mrs Adina-Ioana Vălean (pictured) was approved for the role at a European Parliament hearing on 14 November – taking over from Violeta Bulc.
In her opening statement to MEPs, Mrs Vălean said: "25 000 [road deaths] per year is simply unacceptable. We should share the objective of halving the number of road deaths and serious injuries by 2030 compared to 2020."
In answer to a question from a member of the Parliament's transport committee, she added: "For road safety we are committed to zero vision, zero deaths in 2050. We put a strategy in place and I plan to promote it strongly. With strategy come actions."
Around the countries
Authorities in Finland have announced the introduction of a new traffic law which will enable police officers to use technologies and devices – such as drones – to detect traffic offences.
Statistics show the number of hours spent monitoring traffic in Finland fell by 17% between 2012-2018.
The new law, which will come into effect in June 2020, was announced by Maria Hoikkala from the country's National Police Board.
She said: "Automatic systems will be able to monitor things like mobile phone and seat belt use for the first time."
Meanwhile in Denmark, the Government has ordered a review into road safety – following an increase in deaths in 2019.
Statistics show 159 people were killed on Danish roads between January and October – higher than the corresponding figure for 2018 (134).
Benny Engelbrecht, Denmark's transport minister, said: "It is tragic that the number of traffic fatalities is increasing and that 95% of road accidents occur due to human behaviour.
"This is simply a sign that we are not taking enough care of ourselves and each other on the roads."
Finally in the Czech Republic, pedestrians are being warned of the heightened risk they face during the winter months.
Statistics show that from 2006 to 2016, 54% of the annual number of fatalities occurred between November and March.
The 'Vision O' group is warning pedestrians they face greater danger at night, when most road collisions occur.
Pedestrians in rural areas are also being reminded of their responsibility, under law, to use reflective elements on their clothes.
---