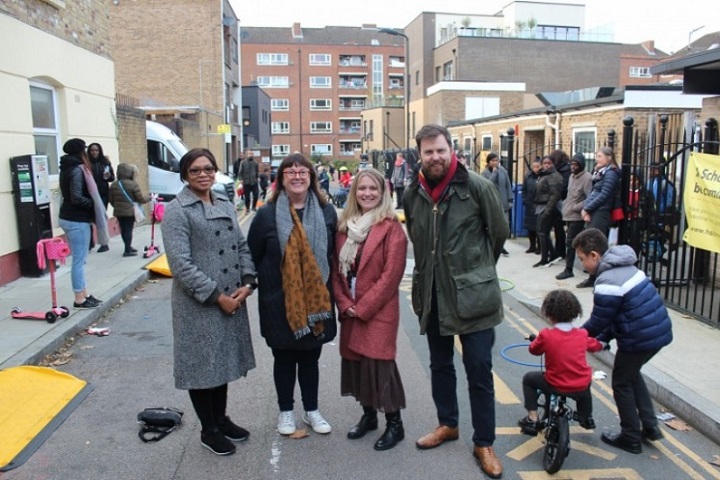 Hackney Council is pressing ahead with plans to ban motor traffic outside all primary schools in the borough at opening and closing times.
School Streets, which have been running in Hackney since 2017, aim to improve air quality at the school gates and make it easier for children to walk and cycle to school.
Evaluation of Hackney's first five School Streets, published in May 2019, shows since they were launched, the proportion of children cycling to participating schools increased by more than 50%.
At the same time, the council launched a free guide to support other councils nationwide to launch their own schemes.
Meanwhile, the schemes have also proved popular with residents – with the latest two consultations showing 86% and 69% support.
In October, Barn Street, outside St Mary's Church of England Primary School in Stoke Newington, became Hackney's eighth School Street.
Jane O'Brien, headteacher at St Mary's Church of England Primary School, said: "There have been many concerning incidents with vehicles speeding down or reversing into Barn Street when children and families are leaving or entering school.
"I am extremely pleased to have a School Street here at St Mary's. The safety of our children is paramount and this will certainly help."
Council to 'accelerate the roll-out' of School Streets
The St Mary's launch comes as Hackney Council announced consultations to implement School Streets at a further nine schools in the next year.
Subject to the results of the consultations, the council would reach its target of introducing 17 School Streets in 2021, a year earlier than planned.
The council also says it will accelerate the roll-out of School Streets by carrying out assessments of all primary schools in the borough, moving forward with introducing a School Street at each one, unless they opt-out.
Cllr Jon Burke, cabinet member for transport, said: "We're committed to tackling London's toxic air, reducing the motor vehicle emissions driving the climate emergency and reclaiming our roads for walking and cycling.
"By delivering our manifesto target to introduce Schools Streets at a third of Hackney primary schools a year early, we can go even further and expand School Streets to all primary schools in the borough, making it easier and safer for kids to walk and cycle to school.
"Given the success of the pilot and the urgent need to improve air quality and get more people walking and cycling, from January 2021 all primary schools in the borough will be automatically enrolled and considered, unless they opt out."
---