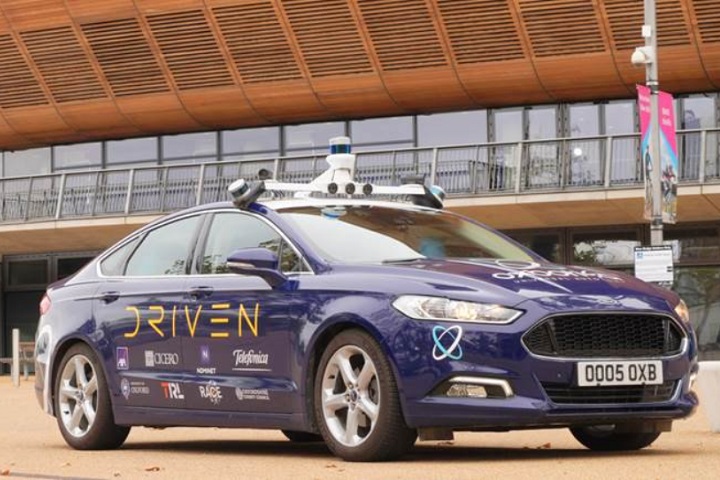 Experts are celebrating a 'significant milestone' in the development of autonomous vehicles, after demonstrating their ability to operate safely in London's 'complex urban environment'.
For the last 30 months, the DRIVEN consortium has sought to address the 'real-world challenges' facing self-driving vehicles. 
Supported by Government funding, the £13.6m programme has focused on completing fully autonomous routes in London and Oxford.
Examining the entire autonomous vehicle 'ecosystem', the project team comprised a wide range of technical experts in areas such as local authority planning, insurance, cyber-security and data trading.
To mark the culmination of the project, a week-long demonstration recently took place around Queen Elizabeth Olympic Park in Stratford.
One of the project partners, TRL, says the demonstration confirms that autonomous vehicles have the ability to operate in complex urban environments without the need for human input – exceeding the initial plan in terms of complexity and achievement.
Dr Graeme Smith, DRIVEN programme director, said: "The completion of the DRIVEN project marks a significant milestone for the future of autonomous vehicles in the UK. 
"Establishing Britain as a world leader for innovative technologies has been at the heart of our mission and we're incredibly proud of the steps we have taken to help make AVs a reality on our roads."  
George Freeman, transport minister whose portfolio includes transport technology and innovation, said: "Self-driving technology has the scope to revolutionise the way people travel, with potentially profound benefits for road safety, accessibility and ​convenience. ​
"We want to drive the roll-out of self-driving vehicles and continue to support innovators developing this ground-breaking technology."
The DRIVEN consortium includes experts from Oxbotica, Oxford Robotics Institute, Axa XL, Nominet, Telefonica, TRL, RACE, Oxfordshire County Council and Transport for London.
---