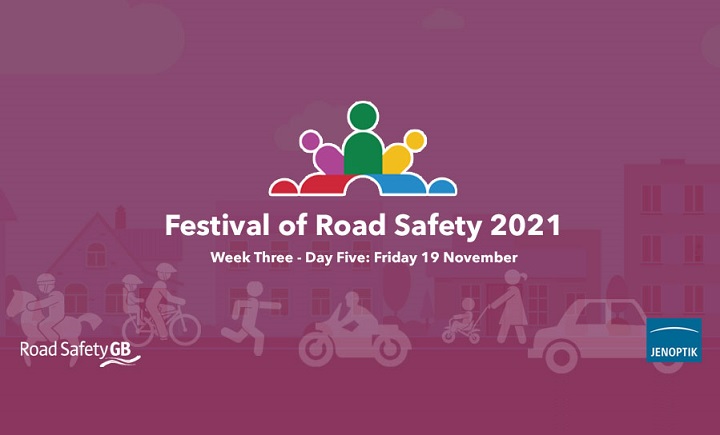 All 12 sessions from the third week of the 2021 Festival of Road Safety are now available to watch – including a webinar to mark the launch of the GB Road Safety Performance Index Launch.
The performance index is a new report and accompanying data tool from The Towards Zero Foundation.
Examining road safety performance over three decades, the report highlights the cost of inaction over the last decade and how it has resulted in excess deaths and injuries.
While this context is important, the webinar explored how to restore momentum in local road safety and embrace the same ambition that is being expressed globally to achieve the ambitious target of a 50% reduction by 2030.
Facilitated and presented by Dan Campsall (Agilysis), the webinar featured Jess Truong (TZF), Tanya Fosdick (Agilysis) and David Davies (PACTS).
Among the other highlights of week three was a keynote presentation from Dr Jonathan James, senior lecturer at the University of Bath.
Dr James' presentation, which is now available to watch via the Festival website, outlines the findings of a study published earlier this year which looks at the effects of the lower drink drive limit introduced in Scotland in 2014.
The study draws on data from January 2009 (pre-reform) to December 2016 (post-reform) – comprising more than 1.2 million collisions.
Dr James said: "In this paper, we have evaluated the reduction in the blood alcohol content law… and we do not find any reduction in road accidents or in drink drive crime.
"The evidence is pretty robust and strong."
The presentation also looks at why the lower limit has failed to bring with it a reduction in road collisions.
Catch up on today's content
The first of today's two presentations was delivered live by Zhuowei Wang, business development manager international at Mercedes-Benz Urban Mobility Solutions.
The talk presented the Mercedes-Benz Road Safety Dashboard, which has been developed by Mercedes-Benz Urban Mobility Solutions division together with Transport for London (TfL).
The digital tool has the potential to identify higher risk locations prior to an incident taking place.
Meanwhile, the second presentation – delivered by Mike Knight – introduces the Sixth Sense Gauge, a system designed to help instil a clear head, good technique and smooth driving.
---