The future of a new road safety and sustainable travel project, which has the backing of Kingston Council, remains in the balance as its crowdfunding campaign draws to a close.
The Environmental Transport Association (ETA), 'Britain's most ethical insurer', is seeking to raise £10k to finance a road danger reduction documentary.
With 18 days of the crowdfunding campaign remaining, the project has so far raised just over £4.2k.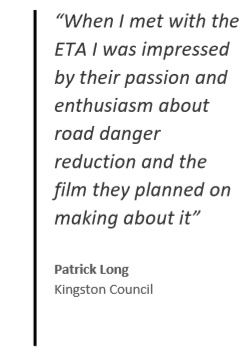 The proposed documentary, titled 'Stop killing our children', will set out to highlight the 'institutionalised apathy towards road deaths that sees 24,000 people killed or seriously injured every year on British roads'.
The film will include:

An explanation of what road danger is – not just the deaths and injuries caused directly by motorised traffic, but the associated air pollution, noise, loss of independence and sedentary lifestyles

Interviews with children about their experience of living near roads – particularly those from socially deprived areas  

Footage taken from bodycams worn by young children to show what it's like for kids to negotiate busy roads   

Air monitoring equipment worn by young kids to demonstrate the health effects of being around busy traffic when you are short
ETA currently works alongside Kingston Council to provide sustainable transport events across the borough.
Patrick Long, Kingston Council's sustainable transport officer, said: "As a council, we believe in all aspects of road danger reduction.
"We promote walking and cycling as a healthy and sustainable means of transport, look at improving infrastructure to reduce traffic speeds – and also work in partnership with the police on their close pass initiatives and community/junior road watch schemes.

"The ETA trust has been providing sustainable transport events for Kingston for a number of years.
"When I met with the ETA recently, I was impressed by their passion and enthusiasm about road danger reduction and the film they planned on making about it."
---