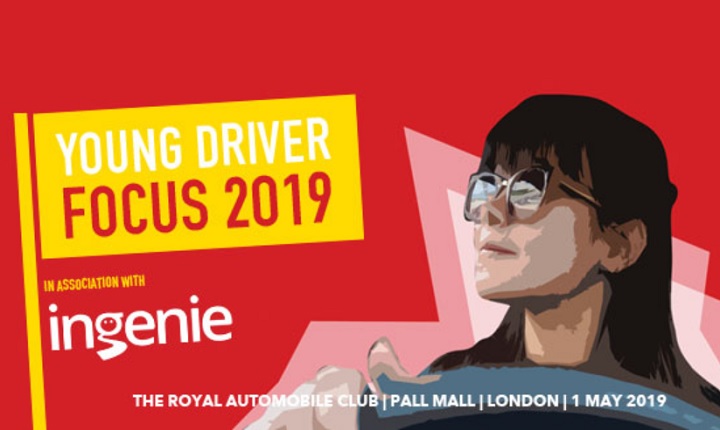 With a little over two weeks to go and fewer than 20 delegate places still available, road safety professionals are being advised to book their places now for Young Driver Focus 2019.
Now in its sixth year, Young Driver Focus is jointly organised by FirstCar, Road Safety GB and the RAC Foundation, in association with the young driver insurer ingenie, the event's headline sponsor for the past five years.
Young Driver Focus 2019 will once again be staged at the prestigious Royal Automobile Club on London's Pall Mall – on Wednesday 1 May. The maximum capacity of the venue is 175 delegates and around 155 road safety professionals have already booked to attend.
The agenda is complete and includes a presentation from the motoring journalist and campaigner, Quentin Willson, who will stress the important role that parents play in helping their children to become safer newly qualified young drivers.
Quentin will be speaking in his capacity as patron of Young Driver Ltd, which has trained 500,000 young people, since its inception.
Quentin created and presented the Worst Driver TV format on C5, now a successful television franchise broadcast in 14 different countries.
He's also patron of the Approved Driving Instructors National Joint Council (ADINJC) and has given evidence to Government Select Committees, lobbied the DfT and ministers and had questions tabled in the House of Commons.
He regularly highlights the issues facing newly qualified drivers, and campaigns on their behalf.
A focus on interventions
The agenda also includes a session outlining four young driver interventions currently being delivered by road safety teams and other stakeholders across the UK.
Duncan Dollimore from Cycling UK will present 'Too Close For Comfort', a campaign to help young drivers see things from a cyclists' perspective – while two speakers from Safety Cameras Scotland will introduce 'driVR', a classroom-based intervention which uses virtual reality to target 16-18 year olds.
The other initiatives to be covered in the session are 'The Honest Truth' (Devon & Cornwall Police) and 'Arrive Alive – don't text and drive' – a peer-to-peer intervention created by Edge Hill University students, working with the Lancashire Partnership for Road Safety.
In total, the agenda comprises 16 presentations, including sessions focusing on driver training and communicating with young people.
Pricing and delegate registration
The delegate fees for Young Driver Focus 2019 are: £150 for Road Safety GB & Academy members; £175 for other attendees from the public and third sectors and academia; and £195 for all other attendees is (all plus VAT).
Click here to book to attend or for more information contact Sally Bartrum by email or on 01379 650112.
---