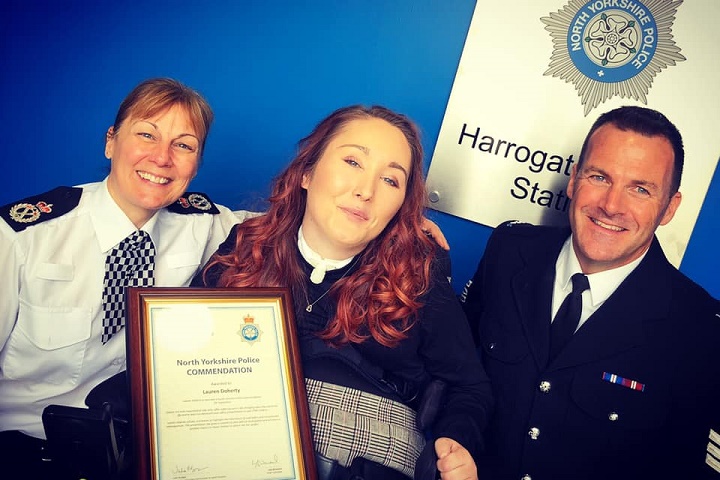 A campaigner who has spoken to more than 4,000 children and young people since 2016 has received a commendation from North Yorkshire Police for her road safety work in the community.
In 2008, Lauren Doherty was involved, as a pedestrian, in a road traffic collision which left her paralysed from the neck down.
After a lengthy period in various hospitals, she rebuilt her life and since 2016 has been visiting schools across North Yorkshire to talk about her experience, disability and road safety – as part of the 'Road Safety Talks' project.
Road Safety Talks is a voluntary organisation offering a free educational road safety service to local schools, clubs and organisations. The project is a registered charity set up to deliver road safety messages to children and young adults by sharing Lauren's personal experiences.  
Working with local authorities and emergency services in North Yorkshire, Lauren also presents as part of the 'Learn & Live' initiative – which aims to make sixth form pupils aware of the potential consequences of poor driving and risks of being a passenger in a vehicle driven by a young driver.
Lauren's contribution to road safety was recognised with a Chief Constable's Commendation from North Yorkshire Police, presented by the Force's chief constable, Lisa Winward, at Harrogate Police Station on 22 October.
Lauren was originally nominated for an Inspirational Award, however on reflection North Yorkshire Police upgraded this to a commendation.
Rebecca Blunstone, project manager for Road Safety Talks, said: "Lauren's hope is that by sharing the reality of what can happen if you don't take care when crossing the road, it will, in a small way, help reduce the number of accidents on the roads.  
"She genuinely wants to educate children to not make the same mistake she did, highlighting that her life will never be the same again as a result of not concentrating on the road and making a life-changing, split second decision to cross the road at the wrong time."
This commendation is the latest in a series of accolades for Lauren.
In 2017, she was awarded the Bravery Award as part of the Local Hero Awards, organised by Stray FM.  In April 2019, she was named 'Volunteer of the Year' at the Yorkshire Choice Awards. 
Two further awards have followed since then – a 'British Citizen Award' presented at The Palace of Westminster for her contribution to her community, and the 'Members Choice Award' from the Spinal Injuries Association. 
---