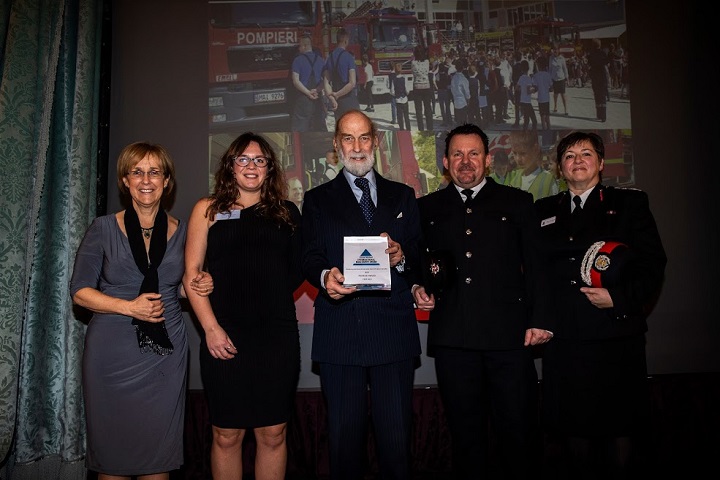 A UK-based organisation which aims to improve post-crash response across the globe has picked up the top accolade at the 2019 Prince Michael International Road Safety Awards' ceremony.
FIRE AID was named winner of the prestigious Premier Award at the Prince Michael Awards' annual luncheon in London on 10 December.
Founded by the Eastern Alliance for Safe and Sustainable Transport (EASST) in 2013, FIRE AID is a non-governmental organisation (NGO) supported by UK Aid and the FIA Foundation.
FIRE AID brings together 'like-minded organisations' to improve post-crash response, through donations of  perfectly useable (but decommissioned) fire and rescue equipment and professional training to fire & rescue services, thereby improving their ability to respond effectively within the 'golden hour' after a collision – and their potential to save lives.
At present, FIRE AID operates in more than 50 countries and has delivered training to in excess of 5,000 fire fighters across the globe. Equipment and training is delivered as humanitarian aid to fire & rescue services in low- and middle-income countries struggling with post-crash response.

The Prince Michael judges described FIRE AID as a 'practical and cost-effective way' to improve post-crash response.
Announcing the 2019 Premier Award winner, Prince Michael said: 'My awards reflect innovation and achievement in the five pillars of the Global Plan for the Decade of Action, and the one pillar which so often receives poor attention is post-crash response.
"Although within many developed countries emergency services respond well and efficiently to casualties and hospital and rehabilitation care are excellent, the contrast with less well-developed regions could not be more stark.
"I am therefore delighted that my Premier Award this year recognises work being done to redress this imbalance. I therefore congratulate FIRE AID as the winner."
The Prince Michael International Road Safety Awards recognise outstanding achievement and innovation worldwide – with the most outstanding examples of international road safety initiatives given public recognition through the scheme.
FIRE AID follows in the footsteps of the Institute of Road Traffic Management – an Indian-based research organisation – who picked up the 2018 Premier Award, recognising the 'major contribution' it has made across the globe.
---