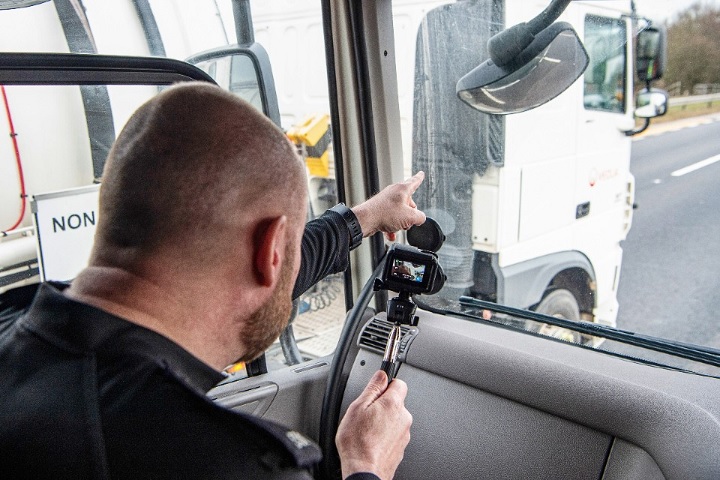 Footage showing a lorry driver wielding two mobile phones while travelling on a motorway has been published to mark the start of a fortnight of action to tackle dangerous driving in the South West.
The footage, taken by Avon and Somerset Police, is one of more than 21,000 offences captured by the Operation Tramline HGV cabs, which are loaned to forces by National Highways (formerly Highways England).
From their elevated viewpoint in the unmarked HGV cabs, police officers are able to spot people driving dangerously – whatever vehicle they may be in.
The cabs are now being used as part of a multi-agency fortnight of action along the M4 and M5, taking place from 13-26 September. The initiative aims to reduce the number of incidents on the motorways and highlight the risks of dangerous driving.
Four regional police forces are taking part in Operation Peninsula – Gloucestershire, Wiltshire, Avon and Somerset and Devon and Cornwall – as well as the Devon and Somerset Fire Service.
In addition to the operational patrols, partners will be present at motorway services, offering advice to drivers such as what to do in a breakdown and ensuring load safety.
National Highways' traffic officers will be providing free tyre checks and safety tips, and vehicle checks will also be carried out by the DVSA at various locations.
Nicholas Reed, National Highways' road safety lead for the South West, said: "The HGV cabs are an important part of our commitment to tackling unsafe driving and those who take unnecessary risks with their own safety and that of others on the road.
The number of people found using their mobile phone while driving is quite alarming. You are four times more likely to be in a crash if you use your phone and, if caught, face a £200 fine and six points on your licence.
Through this fortnight of action on the M5 and M4 we want to make all of our roads safer by raising awareness and encouraging motorists to consider their driving behaviour."
---