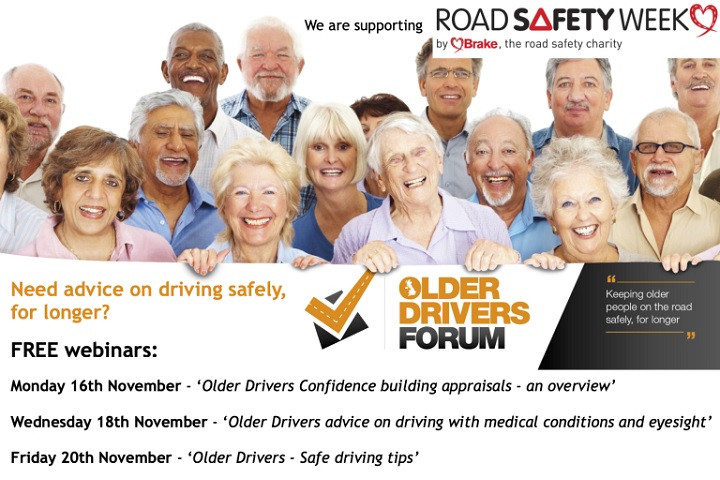 The Older Drivers Forum is running a series of three free webinars to provide help and advice for older drivers and their family and friends, on how to carry on driving safely for longer.
The webinars, which are being organised with support from Hampshire and Thames Valley Police and other partners, are being held during w/comm 16 November to coincide with Road Safety Week 2020, and the National Police Chief's Council's vulnerable road user campaign.
The dates, times and topics for the three webinars are:
Monday 16 November • 10.30-11.30 –

Confidence building appraisals

Wednesday 18 November • 10.30-11.30 –

Driving with a medical condition and eyesight advice

Friday 20 November • 10.30-11.30 – Safe Driving tips
The webinars are free to attend with presentations by a range of experts and the opportunity for participants to ask questions. 
All three webinars are fully subscribed with no further availability. However, the webinars will be vidoed and published on the Older Drivers Forum website. The Forum is also planning to repeat the webinars at a future date.
The Older Drivers Forum is a not-for-profit organisation made up of road safety experts – including representatives from the emergency services, charities, local authorities and businesses specialising in keeping older people on the road.
The Forum provides practical advice, help and support to help keep mature motorists on the road safely for longer, and points people in the right direction for an assessment to identify their driving needs – from wing mirror adapters to an elevated driving seat. 
Rob Heard, chair and founder of the Older Drivers Forum, said: "In these difficult times we still want to be able to communicate with mature motorists and help them, especially when getting back to driving after the lockdown, so they can carry on driving safely for longer. 
"We can all become complacent about our driving and often pick up bad habits, which if not addressed can increase our risk of an incident on the roads. 
"This series of webinars will provide advice on a number of subjects, from confidence building appraisals to safe driving tips. 
"We hope these will be the first of many webinars we host to help and support older motorists and interested family and friends."
---