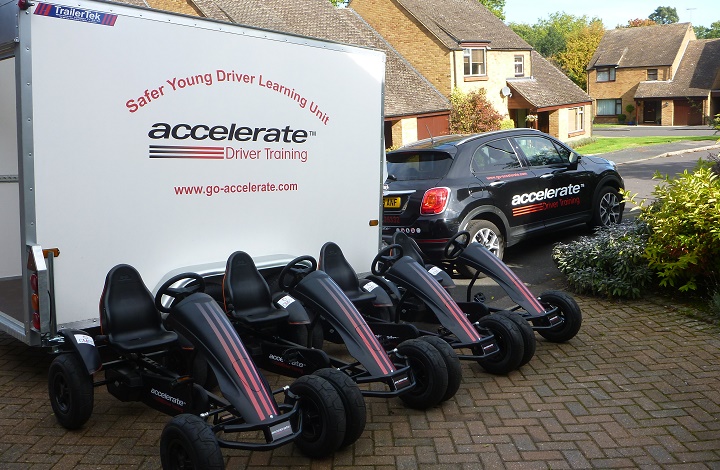 A driver training school has been awarded more than £22,000 of funding by Hampshire's Police and Crime Commissioner to broaden its work to educate pre-test drivers.
accelerate Driver Training, based in Yateley, says the funding from PCC Michael Lane will help it deliver road safety education to more than 1,000 students and 200 parents during the next 12 months.
The accelerate Safer Young Driver Workshop covers topics including speeding, drink driving and using a mobile phone at the wheel.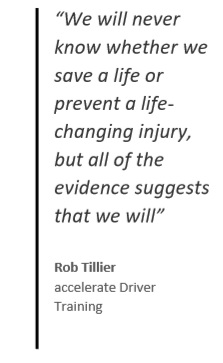 Participants are challenged to wear 'beer goggles' and use a mobile phone while riding a pedal go-kart, designed to highlight the dangers of impairment and distraction – and the 'importance of driving within the law'.
The workshop also utilises virtual reality to provide a 'realistic experience of a road traffic collision' and will soon feature a brake reaction tester to illustrate the importance of the two-second gap.
Rob Tillier, founder and director of accelerate Driver Training, said: "It upsets me enormously when talented youngsters' lives are lost in avoidable circumstances. We are great believers in education in preference to enforcement but recognise the need for both.  
"This funding will enable us to extend our young driver safety education work into more than the one school and one college which we currently support, and broaden the experience which we can provide.  
"With our innovative programme of events, we expect to reach in excess of 1,000 students and 200 parents during this coming financial year.
"We will never know whether we save a life or prevent a life-changing injury, but all of the evidence suggests that we will."
---