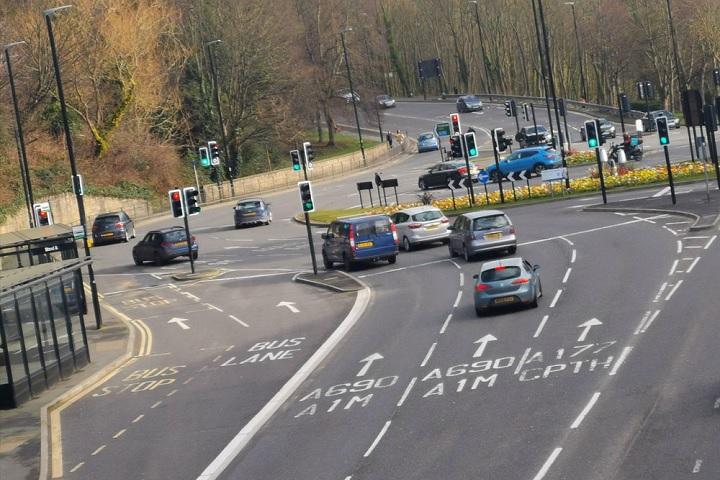 While the Government has pledged nearly £100m to help councils carry out 'essential' repairs to their local road networks, its wider roads investment programme could face a legal challenge from environmentalists.
The £93.4m of funding, announced by roads minister Baroness Vere on 28 February, is being provided to projects which will cut congestion, improve road conditions and make journeys easier.
The funding will be split between 32 local authorities and forms part of a £6.6bn package to improve the condition of the local highway networks between 2015 and 2021.
Projects to benefit include £4m for urgent repairs to the New Elvet Bridge in Durham – along with £3.7m to help refurbish several steel bridges around Northumberland.
The Government has also announced a £900,000 investment to fund 'cutting-edge' research projects aimed at creating a better transport system – the first of which include 'world-leading innovations' to spot and repair potholes.
The new AI-powered app can detect potholes in real-time, using mobile phone sensors to measure when cyclists ride over or swerve to avoid them. It is hoped the app will help local authorities to quickly identify when potholes are forming and take quicker action to fill them.
Baroness Vere said: "There is nothing more frustrating than a journey delayed by poor road conditions, and this multi-million pound boost will help improve connectivity across the country.
"This investment will not only help local areas to target current pinch points on their roads, but will also harness our world-leading research and innovation capabilities to future proof the next generation of journeys."
Government set for legal challenge?
Meanwhile, Government plans for a wider £28.8bn roads programme could be challenged in the courts for breaching the UK's laws on climate change, according to BBC News.
It has been suggested the plans, due to be published next month, don't take into account commitments on reducing emissions and are likely to face legal challenges from environmentalists.
At present, officials are supposed to weigh the benefits of a proposed road scheme – for example how much time drivers will save if it is built – against the drawbacks, including the potential for increased carbon emissions.
However, the current value-for-money assessment was created under guidelines last updated in April 2019, when the UK was planning to cut emissions by 80% by 2050.
But two months later the target was raised, committing the UK to cutting almost 100% of emissions by the same date.
A pressure group, Transport Action Network, says its investigations suggest some road schemes are going ahead even if they're shown to increase emissions – while others don't include any data on potential carbon emissions.
Becca Lush, spokeswoman for the Transport Action Network, told BBC News: "The whole system desperately needs reviewing. The assessments were done in a pre-climate crisis era. They don't take into account the UK's commitment to net zero emissions."
---