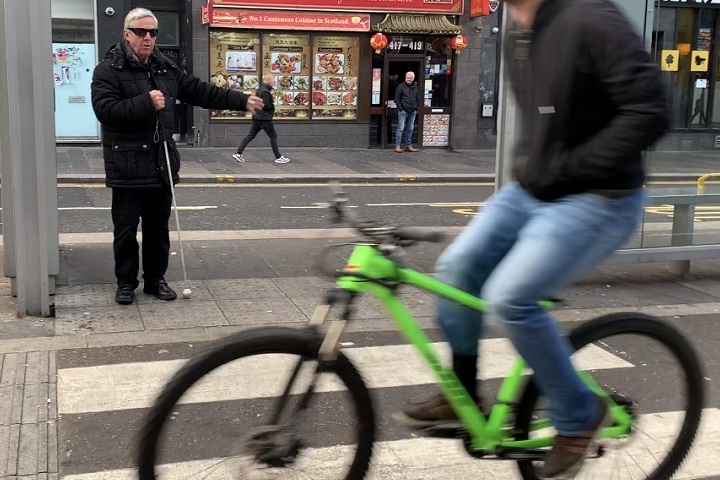 The revamp of a prominent Glasgow street has been condemned as 'dangerous and discriminatory' by a charity which represents blind people.
The Sauchiehall Street Avenue project has seen the creation of a two-way cycle lane on the northern side of the street, as well as junction upgrades, new bus shelters, cycle stands and seating.
Glasgow City Council says the project was designed and delivered after consultation and collaboration with local residents, businesses and organisations – and has regenerated one of the most recognisable streets in Glasgow.
However, the National Federation of the Blind of the UK (NFBUK) believes that clear mistakes have been made in the design, creating conflict between pedestrians, bus passengers and cyclists.
In particular, the NFBUK has raised concerns about the Charing Cross end of Sauchiehall Street, where it says the cycle lane and pavement has become a shared space behind the pedestrian crossing.
To illustrate the conflict between pedestrians and cyclists, NFBUK has been filming the new layout.
NFBUK says one of the videos shows a pedestrian walking to the crossing turning their back towards the cyclist in a defensive manner as the cyclist passes them in the shared space. 
Meanwhile in the video, another pedestrian puts up their hands in the air as a cyclist 'passes them very closely' entering the shared space to join the cycle lane.  
The NFBUK is requesting an urgent meeting with Glasgow City Council to rethink the project and to ensure lessons are learnt so that all future designs and routes are safe and accessible for all. 
Sandy Taylor, from NFBUK in Scotland, who is completely blind, said: "Sauchiehall Street has created disability apartheid by design. To call it a healthy street is simply not true.  
"Glasgow City Council need an urgent change of heart and a change of policy, and to insist that all future changes are underpinned on inclusive design principles."
---