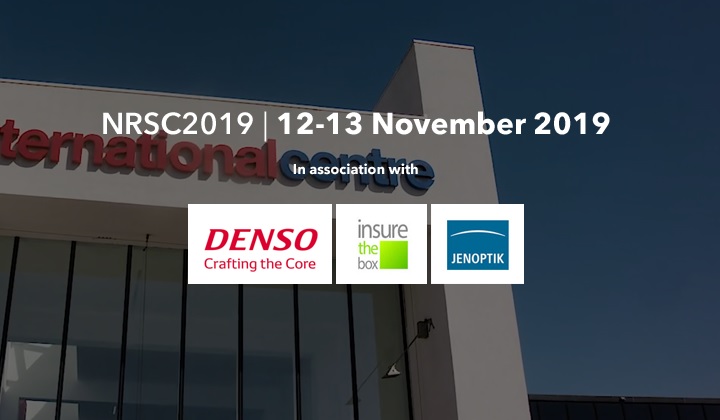 DENSO, a leading supplier of advanced automotive technology, systems and components for all the world's major automakers, has been unveiled as a new sponsor of the 2019 National Road Safety Conference.
The National Road Safety Conference is organised by Road Safety GB and the 2019 edition is being held in Telford where DENSO has its largest UK-based manufacturing site. 
DENSO has 211 worldwide sites and 178,000 employees, more than 1,000 of whom are based in Telford. 
The 2019 National Conference will take place at the International Centre in Telford on 12-13 November, and already more than 250 people have registered to attend. DENSO joins Jenoptic and Insure The Box, who have both sponsored the event for several years, as the event's sponsors.
Alan Kennedy, executive director of Road Safety GB, said: "We are naturally delighted to have DENSO on board as a partner for the 2019 National Conference. The involvement of such a large automotive player is clearly very relevant.
"The money we raise through sponsorship and the exhibition is used to offset the costs of staging the conference, and to subsidise the delegate fee for public sector road safety professionals.
"Our aim is to make the conference as affordable as possible for local authority employees to attend, which is one of the reasons we are able to attract in excess of 300 attendees.
"However, it is very important to us that we share similar values with our partners from the commercial sector, which is why it is pleasing to note that DENSO's vision is 'for a safer and more eco-friendly future with fewer accidents'.
"We also admire DENSO's philosophy, which requires the organisation and its people to 'contribute to a better world'."
DENSO and road safety
DENSO's Global Traffic Safety Project is 'aiming to realise a society without traffic accidents'.
Phil Tomlinson, senior manager, DENSO Manufacturing UK, said: "The main causes for the occurrence of traffic accidents are vehicles, infrastructure, and people. Aiming to realise a society without traffic accidents, DENSO offers products that ensure safety. 
"In addition, DENSO implements traffic safety educational activities which are carried out by our employees for members of local communities around the world. Educational activities commenced in 2015 and, as of the fiscal year 2018, have been carried out by 55 DENSO group companies in Japan and 19 other countries and regions around the world.
"Our employees act as models for practicing traffic safety and work to form connections with local communities. By doing so, we believe we can encourage people around the world to give consideration to the perspective of sustainability.
"DENSO's adoption of the United Nations Sustainable Development Goals (SDG's) framework has enabled us to clarify and promote our core values still further."
National Conference – programme complete
The programme for National Conference 2019 is virtually complete and comprises 43 presentations, discussion forums and workshops delivered by 55 contributors across the main and fringe programmes.
In addition, 25 organisations have signed up to participate in the exhibition which runs alongside the conference.
Click here for prices and to register as a delegate; click here to book a place at the exhibition; or for more information contact either Nick Rawlings or Sally Bartrum on 01379 650112.
---