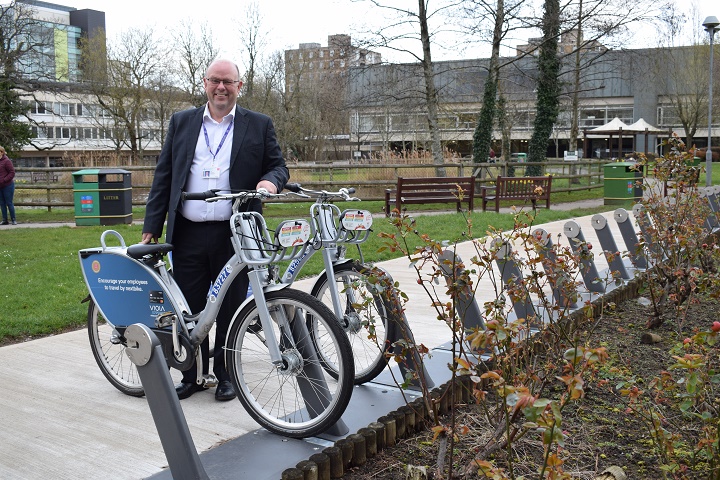 A new pilot scheme is allowing GPs in Cardiff to prescribe patients with a free six month membership to a cycle hire service.
Thought to be the first initiative of its kind in the UK, the pilot is being led by the Cardiff and Vale University Health Board, in partnership with nextbike.
As part of the prescription, doctors at Lansdowne Surgery and Fairwater Health Centre will be able to provide patients with a unique access code, entitling them to unlimited free 30-minute nextbike hire sessions for six months.
The first phase of the pilot is designed to ensure that the scheme is easy to use for patients and health professionals. Feedback will determine whether the scheme will be made more widely available across Cardiff.
Dr Tom Porter, Cardiff and Vale University Health Board and Public Health Wales, said: "I'm really proud to be involved in this groundbreaking pilot.
"Cycling is a fantastic form of physical activity and riding your bike is one of the easiest ways to reduce your risk of ill health while building your cardiovascular fitness. It's also great for improving mental well-being too.
"It's recommended that adults are active for at least 150 minutes every week, but many people feel that 150 minutes is simply too difficult to fit into their busy schedules.
"Cycling is not only fun but can also fit into your regular routine, going to work, visiting friends, or nipping to the shops, so you don't even notice you're racking up the minutes."
nextbikes are already a familiar sight in Cardiff, with residents clocking up approximately 10,000 journeys each week.
Krysia Solheim, nextbike managing director, said: "Since our initial launch in May 2018, we have doubled the number of bikes available in the city from 250 to 500. The demand continues to grow as we work on doubling the scheme to 1,000 bikes this summer.
"As one of our most successful schemes, we're really proud to now be embarking on this groundbreaking pilot with the city."
---