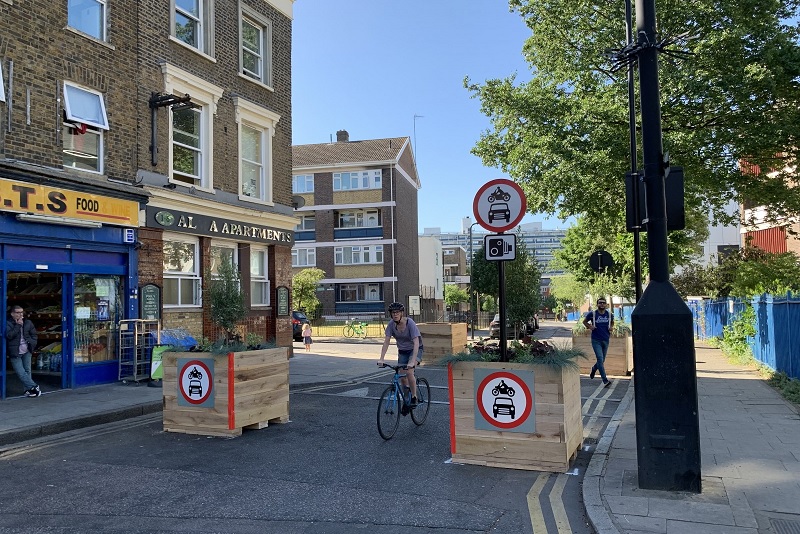 A further 20 roads in Hackney are set to close to through-traffic, as part of 'radical' road safety plans designed to support walking and cycling and aid social distancing.
Hackney Council has secured funding from Transport for London's Streetspace programme for the closures, nine of which would create new low traffic neighbourhoods. 
Closures at a further 11 roads around the borough are targeted at residential areas known to be used as rat-runs by drivers keen to avoid main roads.
Residents will still be able to access homes and businesses. 
The scheme forms part of Hackney Council's post-lockdown transport strategy, which will also see roads outside 40 schools closed to traffic to help children walk and cycle to school.
The measures will be implemented for a maximum period of 18 months, giving residents the chance to have their say on how they work – before a decision is made on whether to make them permanent.
Cllr Jon Burke, Hackney Council cabinet member for transport, said: "We know that 70% of people in Hackney do not own a car, yet there is a clear risk that as lockdown eases and public transport use remains low the number of cars on our roads will increase. 
"In a borough with the highest number of cycling and walking road deaths in London per 1,000 trips taken, and one of the highest premature death rates from air pollution, any increase in motor vehicle traffic is likely to be deadly. It is my duty to ensure that doesn't happen.
"We are acting quickly to close roads and widen pavements to support walking and cycling, protect people from increased traffic, and prevent the secondary effects of Coronavirus from exacerbating existing road safety issues."
---